Yeh Joker Lyrics - Joker
Yeh Joker Lyrics from Joker: This is a very well sung song by Sonu Nigam and Shweta Pandit with nicely composed music by GV Prakash Kumar. Lyrics of Yeh Joker are beautifully penned by Shirish Kunder. Joker is a 2012 Hindi movie starring Akshay Kumar, Sonakshi Sinha and Minisha Lamba.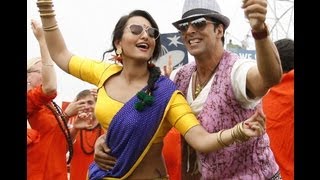 Yeh Joker Song Detail
Song: Yeh Joker
Album:
Joker
(2012)
Singer: Sonu Nigam, Shweta Pandit
Musician: G.V. Prakash Kumar
Lyricist: Shirish Kunder
Star Cast: Akshay Kumar, Sonakshi Sinha, Minisha Lamba etc.
Yeh Joker Lyrics
Panga na le saale danga milega
Danga na kar saale jung chidega
Panga na le saale danga milega
Danga na kar saale jung chidega
Yeh joker aisa pantar
Jo khele baazi khud par
Hum bhi is gaddi ke patte
Par apna na koyi rang
Hath aayein hum jab kisi ke
Baazi usi ki buland
Yeh joker aisa pantar
Jo khele baazi khud par
Panga na le saale danga milega
Danga na kar saale jung chidega
Panga na le saale danga milega
Danga na kar saale jung chidega
Rang de jung hai
Boli lagi hai lakhon hain rang
Ab sab rangenge joker ke sang
Arre boli lagi hai laakhon hain rang
Ab sab rangenge joker ke sang
Yeh kaala yeh peela yeh neela le lo Yeh hara yeh zara dede woh phenk do
Yeh joker aisa pantar
Jo khele baazi khud par
Panga na le saale danga milega
Danga na kar saale jang chidega
Panga na le saale danga milega
Danga na kar saale jang chidega
Baazi lagi hai daanv bade
Joker ke peechhe shaatir pade
Arre baazi lagi hai daanv bade
Joker ke peechhe shaatir pade
Yeh attha yeh nauva yeh dassa aye o
Yeh raani yeh raaja yeh ikka jai ho
Yeh joker aisa pantar
Jo khele baazi khud par
Panga na le saale
Danga na kar saale
Panga na le saale
Danga na kar saale
Panga na le saale danga milega
Danga na kar saale jang chidega
Panga na le saale danga milega
Danga na kar saale jang chidega
Panga na le saale danga milega
Danga na kar saale jang chidega
Panga na le saale danga milega
Danga na kar saale jang chidega
Yeh joker aisa pantar
Pantar aisa joker