Yamma Yamma Lyrics - Shaan
Yamma Yamma Lyrics from the movie Shaan is sung by Mohammad Rafi and R D Burman, its music is composed by R D Burman and lyrics are written by Anand Bakshi. Shaan is a 1980 Hindi movie starring Amitabh Bachchan, Rakhee and Shashi Kapoor.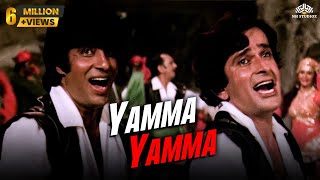 Yamma Yamma Song Detail
Song: Yamma Yamma
Album:
Shaan
(1980)
Singer: Mohammad Rafi, R. D. Burman
Musician: R. D. Burman
Lyricist: Anand Bakshi
Star Cast: Amitabh Bachchan, Rakhee, Shashi Kapoor etc.
Yamma Yamma Lyrics
Yamma yamma, yamma yamma
Yeh khoobsurat sama
Yamma yamma, yamma yamma
Yeh khoobsurat sama
Bas aaj ki raat hai zindagi
Kal hum kahan, tum kahan
Bas aaj ki raat hai zindagi
Kal hum kahan, tum kahan
Yamma yamma, yamma yamma
Yeh khoobsurat sama
Yamma yamma, yamma yamma
Yeh khoobsurat sama
Bas aaj ki raat hai zindagi
Kal hum kahan, tum kahan
Bas aaj ki raat hai zindagi
Kal hum kahan, tum kahan
Kab kya ho jaaye kisko khabar
Aa naach lein jhoomkar
Kab kya ho jaaye kisko khabar
Aa naach lein jhoomkar
Yeh zindagi ik lamba safar
Pal bhar ke sab hamsafar Arre ik raat ke mehman sab yahan
Kal hum kahan, tum kahan
Ik raat ke mehman sab yahan
Kal hum kahan, tum kahan
Yamma yamma, yamma yamma
Yeh khoobsurat sama
Yamma yamma, yamma yamma
Yeh khoobsurat sama
Bas aaj ki raat hai zindagi
Kal hum kahan, tum kahan
Bas aaj ki raat hai zindagi
Kal hum kahan, tum kahan
Hanste huye aisi shaan se
Deewane jal jaayenge hey
Arre hanste huye aisi shaan se
Deewane jal jaayenge
Arre jalti shama se milke gale
Parwane jal jaayenge
Reh jaayega yaadon ka dhuan
Kal hum kahan, tum kahan
Arre reh jaayega yaadon ka dhuan
Kal hum kahan, tum kahan
Yamma yamma, yamma yamma
Yeh khoobsurat sama
Bas aaj ki raat hai zindagi
Kal hum kahan, tum kahan
Bas aaj ki raat hai zindagi
Kal hum kahan, tum kahan
More Lyrics From Shaan


Janu Meri Jaan


Pyar Karne Wale Pyar Karte Hain

Aate Jaate Hue Main Sab Pe Nazar Rakhta Hoon