Naino Mein Sapna Lyrics - Himmatwala
Naino Mein Sapna Lyrics from Himmatwala (2013) is penned by Indeevar and Sameer Anjaan, it's composed by Sajid-Wajid and sung by Shreya Ghoshal and Amit Kumar. Himmatwala is a 2013 Hindi movie starring Ajay Devgn, Tamannaah Bhatia and Paresh Rawal.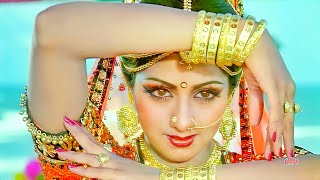 Naino Mein Sapna Song Detail
Song: Naino Mein Sapna
Album:
Himmatwala
(2013)
Singer: Shreya Ghoshal, Amit Kumar
Musician: Sajid-Wajid
Lyricist: Indeevar, Sameer Anjaan
Star Cast: Ajay Devgn, Tamannaah Bhatia, Paresh Rawal etc.
Naino Mein Sapna Lyrics
Tathaiya tathaiya ho x 2
Tum tana na na x 4
Tum tana x 8
Naino mein sapna
Sapnon mein sajna
Sajna pe dil aa gaya
Kyun sajna pe dil aa gaya
Naino mein sapna
Sapnon mein sajna
Sajna pe dil aa gaya
Kyun sajna pe dil aa gaya
Kai albele dekhe
Jawani ke rele dekhe
Haseenon ke mele dekhe
Dil pe ho ho tu hi chha gaya
Tu hi chha gaya
Arre naino mein sapna
Sapnon mein sajni
Sajni pe dil aa gaya
Kyun sajni pe dil aa gaya
Tathaiya tathaiya ho x 2
Tum tana na na x 4 Tum tana x 8
Na mila koi bhi tujhsa
Maine dekhi har gali
Maine choda zamana sara
Main tere sang chali
Tan tera khila khila chaman
Tu jawaani ki kali
Teri khushboo hi meri saason mein
Pal pal hai pali
Baahon ka sahara mila
Tera jo ishara mila
Mujhe jag sara mila
Main to ho ho
Tujhe pa gaya, tujhe pa gaya
Naino mein sapna
Sapnon mein sajna
Sajna pe dil aa gaya
Kyun sajna pe dil aa gaya
Sun zara, anadi sun zara
Kahe kya meri chudiyan
Nagin ban ban ke dasti hai mujhko
Ab yeh dooriyan
Dooriyan, yeh majbooriyan
Hain bas kuchh hi saal ki
Leke aaoonga tere ghar
Main to ek din palki
Neela gagan hoga
Sachcha bandhan hoga
Apna milan hoga, mann ko ho ho
Tu hi bha gaya ho, tu hi bha gaya
Naino mein sapna
Sapnon mein sajna
Sajna pe dil aa gaya
Kyun sajna pe dil aa gaya
Arre naino mein sapna
Sapnon mein sajni
Sajni pe dil aa gaya
Kyun sajni pe dil aa gaya
More Lyrics From Himmatwala

Tathaiya Tathaiya


Thank God Its Friday


Dhoka Dhoka