Dhoka Dhoka Lyrics - Himmatwala
"Dhoka Dhoka" is an item number composed by Sajid-Wajid for movie Himmatwala. Ajay Devgan is will appear as leading actor while Tamanna Bhatia is the leading lady in this action romantic film. This is a Sajid Khan's directorial venture. Himmatwala is a 2013 Hindi movie starring Ajay Devgn, Tamannaah Bhatia and Paresh Rawal.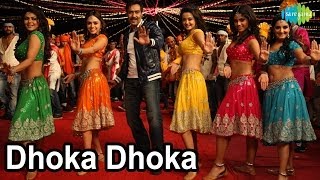 Dhoka Dhoka Song Detail
Song: Dhoka Dhoka
Album:
Himmatwala
(2013)
Singer: Bappi Lahiri, Sunidhi Chauhan
Musician: Sajid-Wajid
Lyricist: Sameer Anjaan
Star Cast: Ajay Devgn, Tamannaah Bhatia, Paresh Rawal etc.
Dhoka Dhoka Lyrics
Patna ki patti padha ke baabu
Punjabi dupata dila ke baabu
Kolhapur waali mirchi chakha ke
Kolkutta ki mishti khila ke
De gaya de gaya de gaya kya
Dhoka dhoka, dhoka dhoka de gaya re
Arre dhoka dhoka dhoka
Dhoka de gaya re
Arre re re dhoka dhokha dhokha
Dhokha de gaya re
Dhokha, dhokha, dhokha
Dhokha de gaya re
Saiyyan bitha ke, gaya re dikha ke
Mohe preet ka gulgula
Saari saari baat kari saari
Manne garba faraabi gaya
Aitthe gai, otthe gai
Main te ethe otthe gai
Mainu kadi na mila
Kolhapur waali mirchi chakha ke haan
Kolhapur waali mirchi chakha ke
Kolkatta ki mishti khila ke De gaya de gaya de gaya kya
Dhoka dhoka, dhoka dhoka de gaya re
Haye dhoka dhoka dhoka
Dhoka de gaya re
Dhokha dhokha dhokha
Dhokha de gaya re
Naago naago udi baba naago naago
Prem karbo nakko nu chhen ke
Garba ma ghabraye
Dandi maari chhut jaaye
Dar lage hai khel se ha
Nakko nakko agga bai nakko nakko
Dil lagana kisi pore se
Munda sayana tha, apna deewana tha
Dil le gaya haye otthe
Kolhapur waali mirchi chakha ke
Kolhapur waali mirchi chakha ke
Kolkatta ki mishti khila ke
De gaya de gaya de gaya kya
Dhoka dhoka, dhoka dhoka de gaya re
Haye re re dhoka dhoka dhoka
Dhoka de gaya re
Le gai, le gai, dil mera le gai
Arre naya naya naya dard de gai re
Arre gai gai gai dard de gai re
South ki idli khila ke
Daxin ka rasam pila ke
Ho gori patli kamar lachka ke
De gai, de gai, de gai kya
Dhoka, dhoka, dhoka
Dhoka de gayi re
Arre dhokha dhokha dhokha
Dhokha dhokha dhokha dhokha hey
Dhoka dhoka dhoka dhoka
Dhokha, dhokha, dhokha, dhokha
Haan dhoka dhoka dhoka dhoka
Dhoka, dhokh de gaya
Arre re re, arre re re
Dhokha, dhokha, dhokha, dhokha
Dhoka, dhoka de gaya re haye
More Lyrics From Himmatwala

Tathaiya Tathaiya


Thank God Its Friday


Naino Mein Sapna