Jaati Hoon Main Lyrics - Karan Arjun
Jaati Hoon Main Lyrics from Karan Arjun: This is a very well sung song by Kumar Sanu and Alka Yagnik with nicely composed music by Rajesh Roshan. Lyrics of Jaati Hoon Main are beautifully penned by Indeevar. Karan Arjun is a 1995 Hindi movie starring Shahrukh Khan, Salman Khan and Mamta Kulkarni.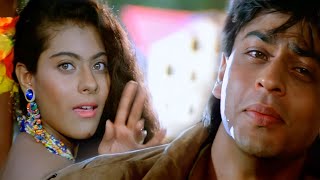 Jaati Hoon Main Song Detail
Song: Jaati Hoon Main
Album:
Karan Arjun
(1995)
Singer: Kumar Sanu, Alka Yagnik
Musician: Rajesh Roshan
Lyricist: Indeevar
Star Cast: Shahrukh Khan, Salman Khan, Mamta Kulkarni etc.
Jaati Hoon Main Lyrics
Jaati hoon main
Jaldi hai kya
Dhadke jiya
Woh kyon bhala
Jaati hoon main
Jaldi hai kya
Dhadke jiya
Woh kyon bhala
Khud se hi darne lagi hoon
Main pyaar karne lagi hoon
Khud se jo itna darogi
Tum pyaar kaise karogi
Jaati hoon main
Jaldi hai kya
Dhadke jiya
Woh kyon bhala
Khud se hi darne lagi hoon
Main pyaar karne lagi hoon
Khud se jo itna darogi
Tum pyaar kaise karogi
Jaati hoon main
Jaldi hai kya Dhadke jiya
Woh kyon bhala
Jaadu tere jism ka
Teri oar kheenche mujhe
Kaabu na khud pe rahe
Jab-jab main dekhoon tujhe
Jaadu tere jism ka
Teri oar kheenche mujhe
Kaabu na khud pe rahe
Jab-jab main dekhoon tujhe
Kadam behak jaayenge
Yeh kyon tumne socha
Kya meri chahat pe
Tumko nahin bharosa
Tum par mujhko yakin hai
Khud par yakin nahin
Jaati hoon main
Jaldi hai kya
Dhadke jiya
Woh kyon bhala
Khud se hi darne lagi hoon
Main pyaar karne lagi hoon
Khud se jo itna darogi
Tum pyaar kaise karogi
Jaati hoon main
Jaldi hai kya
Dhadke jiya
Woh kyon bhala
Leke tere lab ki laali
Jeevan ko rangin karenge
Aankhon mein tujhko bharenge
Kal tak tabhi jee sakenge
Ho leke tere lab ki laali
Jeevan ko rangin karenge
Aankhon mein tujhko bharenge
Kal tak tabhi jee sakenge
Khud ko sambhaale rakhiye
Mujh ko sambhalne deeje
Hosh main apne kho doon
Itna pyaar na deeje
Pyaar hai deewanapan hosh ka kaam nahin
Jaati hoon main
Jaldi hai kya
Dhadke jiya
Woh kyon bhala
Khud se hi darne lagi hoon
Main pyaar karne lagi hoon
Khud se jo itna darogi
Tum pyaar kaise karogi
Jaati hoon main
Jaldi hai kya
Dhadke jiya
Woh kyon bhala
Jaati hoon main