Happy Budday Lyrics - Kill Dil
Happy Budday Lyrics from the movie Kill Dil is a funny birthday song sung by Sukhwinder Singh and Shankar Mahadevan, its music is composed by Shankar Ehsaan Loy and lyrics are written by Gulzar. Kill Dil is a 2014 Hindi movie starring Ranveer Singh, Ali Zafar and Parineeti Chopra.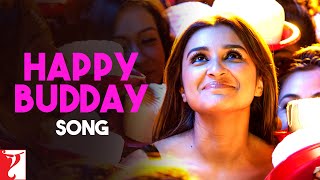 Happy Budday Song Detail
Song: Happy Budday
Album:
Kill Dil
(2014)
Singer: Sukhwinder Singh, Shankar Mahadevan
Musician: Shankar Ehsaan Loy
Lyricist: Gulzar
Star Cast: Ranveer Singh, Ali Zafar, Parineeti Chopra etc.
Happy Budday Lyrics
O haaye! Oye Happy Budday to you
Happy Happy Budday to you
O banno solah saalon ka teeka laga tu
Tinakdhin, tinakdhin, tinakdhin, tinakdhin
O bachchu tere bachpan ka beema kara tu
Umra chadhti rahegi saal ghat-te rahenge
Aur hoti rahegi guftagu
Happy Budday to you
Happy Happy Budday to you
Aire gaire samjhein magar
Bas aashikon pe reh kar few
Arre keechad hai raste mein painche utha tu
Tinakdhin, tinakdhin, tinakdhin, tinakdhin
Arre sardi hai dhakkan mein love peg pila doon
Tinakdhin, tinakdhin, tinakdhin, tinakdhin
O badi bhi na hona warna ghoonghat tale
Sab bhej denge banaa kar bahu
Happy Budday to you
Aire gaire samjhein magar
Bas aashikon pe reh kar few
Sadde Budday sadde naal Budday
Happy shappy, happy shappy Budday Sadde Budday sadde naal Budday
Happy shappy, Happy Budday to you