Bol Beliya Lyrics - Kill Dil
Bol Beliya Song from Kill Dil (2014): This is a very well sung song by Sunidhi Chauhan with nicely composed music by Shankar Ehsaan Loy. Bol Beliya lyrics are beautifully penned by Gulzar. Kill Dil is a 2014 Hindi movie starring Ranveer Singh, Ali Zafar and Parineeti Chopra.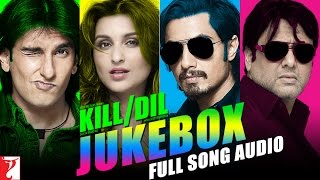 Bol Beliya Song Detail
Song: Bol Beliya
Album:
Kill Dil
(2014)
Singer: Sunidhi Chauhan, Shankar Mahadevan, Siddharth Mahadevan
Musician: Shankar Ehsaan Loy
Lyricist: Gulzar
Star Cast: Ranveer Singh, Ali Zafar, Parineeti Chopra etc.
Bol Beliya Lyrics
Bol beliya, bol beliya, bol beliya x 2
Aaj gali se jab woh guzre
Darwaze par diya jala ke
Darwaze khol ke rakhna, koi laut aaye to
Ho rasta bhool na jaayein, koi laut aaye to
Saari saari raatein jagna
Galiyan roshan rakhna
Ho aane wala laut na jaaye
Bol beliya, bol beliya, bol beliya
Aaha aaj gali se jab tum guzre
Diye ne dekha aankh jhapak ke
Sadiyan taap koyi ab ghar aaya hai
Ankhiyan sooj gayi hain, jee bhar aaya hai
Saari saari raatein jagna
Galiyan roshan rakhna
Ho aane wala laut na jaaye
Bol beliya, bol beliya, bol beliya
Ho laut ke aake shikaayat rahe
Bewafaai ki riwayat na rahe
Laut ke aa, laut ke aa
O aazma le ki shikaayat na rahe
Yun ki jaane ki riwayat na rahe Aazma le, aazma le
Arre aate aate aate aate mud ke na takna
Jaate jaate jaate jaate ruk ke takna
Ho aaj gali se jab woh guzre
O ho ho darwaze par diya jala ke
Darwaze khol ke rakhna koi lau aaye to
Rasta bhool na jaayein, koi laut aaye to
Saari saari raatein jagna
Galiyan roshan rakhna
Ho aane wala laut na jaaye
Bol beliya, bol beliya, bol beliya