Alaahda Lyrics - Lekar Hum Deewana Dil (2014)
Alaahda Lyrics from the movie Lekar Hum Deewana Dil is sung by Shiraz Uppal, its music is composed by A R Rahman and lyrics are written by Amitabh Bhattacharya. Lekar Hum Deewana Dil is a 2014 Hindi movie starring Armaan Jain, Deeksha Seth and Nikita Dutta.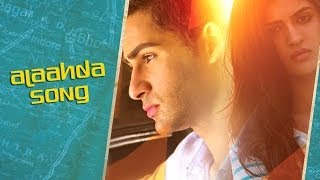 Alaahda Song Detail
Song: Alaahda
Album:
Lekar Hum Deewana Dil
(2014)
Singer: Shiraz Uppal
Musician: A. R. Rahman
Lyricist: Amitabh Bhattacharya
Star Cast: Armaan Jain, Deeksha Seth, Nikita Dutta etc.
Alaahda Lyrics
Alaahda alaahda hum huye to hain alaahda
Puri tarah magar nahi huye hain kyun alaahda
Alaahda alaahda hain naam se alaahda
Judi hui hai rooh to, hain naam ke alaahda
(Alaahda means Separate)
Tere bagair jeena lagta hai khaali
Dil hai magar seena lagta hai khaali
Meri gali alaahda, tera shehar alaahda
Yaadon ka hai pata wohi, jahan hum huye alaahda
Din raat adhoorapan cheere
Jung lage guroor ki dhaar se
Takiye ka neend se kuchh jhagda hua sa hai
Kaante ghadiyon ke dheere chale chai kyun
Chale hai kyun waqt se
O.. ho.. o...
Tere bagair jeena lagta hai khaali
Dil hai magar seena lagta hai khaali
Seena lagta hai khaali
Alaahda alaahda hum huye to hain alaahda
Puri tarah magar nahi huye hain kyun alaahda
Alaahda alaahda hain naam se alaahda
Judi hui hai rooh to, hain naam ke alaahda