Aaj Ki Raat Lyrics - Dharmputra
Aaj Ki Raat Lyrics from Dharmputra is Hindi song sung by Mahendra Kapoor and music is given by Datta Naik. Aaj Ki Raat song lyrics are written by Sahir Ludhianvi. Dharmputra is a 1961 Hindi movie starring Mala Sinha, Shashi Kapoor and Rehman.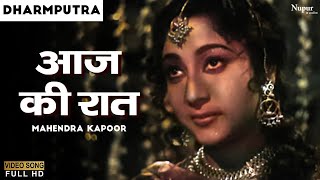 Aaj Ki Raat Song Detail
Song: Aaj Ki Raat
Album:
Dharmputra
(1961)
Singer: Mahendra Kapoor
Musician: Datta Naik
Lyricist: Sahir Ludhianvi
Star Cast: Mala Sinha, Shashi Kapoor, Rehman etc.
Aaj Ki Raat Lyrics
Aaj ki raat nahi
Shikawe shikayat ke liye
Aaj har lamha har ek pal hai
Mohabbat ke liye
Reshmi sej hai
Mehki huyi tanhayi hai
Aaj ki raat muradon ki
Baraat aayi hai
Aaj ki raat
Har gunaah aaj mukaddas hai
Farishton ki tarah
Kaanpte hathon ko mil jaane do
Rishton ki tarah
Aaj milne mein na uljhan hai
Na rusawayi hai
Aaj ki raat muradon ki
Baraat aayi hai
Aaj ki raat
Apni zulfein mere shane pe
Bikhar jaane do
Is haseen raat ko
Kuchh aur nikhar jaane do
Subah ne aaj na aane ki
Kasam khayi hai
Aaj ki raat muradon ki
Baraat aayi hai
Aaj ki raat