Tumhi Ho Bandhu Lyrics - Cocktail
Tumhi Ho Bandhu Lyrics from Cocktail: The song is sung by Kavita Seth and Neeraj Shridhar who sang it beautifully, a great composition by the composers Pritam Chakraborty. Lyrics of Tumhi Ho Bandhu is fabulous. Cocktail is a 2012 Hindi movie starring Saif Ali Khan, Deepika Padukone and Diana Penty.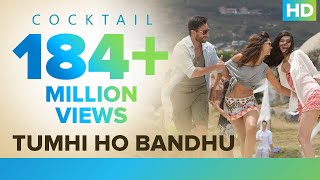 Tumhi Ho Bandhu Song Detail
Song: Tumhi Ho Bandhu
Album:
Cocktail
(2012)
Singer: Kavita Seth, Neeraj Shridhar
Musician: Pritam Chakraborty
Lyricist: Irshad Kamil
Star Cast: Saif Ali Khan, Deepika Padukone, Diana Penty etc.
Tumhi Ho Bandhu Lyrics
Yara tere sadke ishq sikha
Main to aayi jag tajj ke ishq sikha
Main to yara tere sadke ishq sikha
Main to aayi jag tajj ke ishq sikha
Jab yaar kare parwaah meri
Mujhe kya parwaah is duniya ki
Jag mujh pe lagaye paabandi
Main hu hi nahin is duniya ki
Tumhi din chadhe, tumhi din dhale
Tumhi ho bandhu, sakha tumhi
Tumhi din chadhe, tumhi din dhale
Tumhi ho bandhu, sakha tumhi
Every time, every minute all the day
Tumhi ho bandhu, sakha tumhi
Tumhi din chadhe, tumhi din dhale
Tumhi ho bandhu, sakha tumhi
Dil ki takhti par hu likhti ishqaan ishqaan
Jag kya jaane dil ko mere ishqaan kiska
Lag yaar gale le saar meri
Mujhe kya parwaah is duniya ki
Tu jeet meri, jag haar meri
Main hu hi nahin is duniya ki
Tumhi din chadhe, tumhi din dhale
Tumhi ho bandhu, sakha tumhi
Tumhi din chadhe, tumhi din dhale
Tumhi ho bandhu, sakha tumhi
Every time, every minute all the day
Tumhi ho bandhu, sakha tumhi
Tumhi din chadhe, tumhi din dhale
Tumhi ho bandhu, sakha tumhi
Banke chaahat nazron se khat likhna likhna
Tu hai jaisa mujhko waisa dikhna dikhna
Banke chaahat nazron se khat likhna likhna
Tu hai jaisa mujhko waisa dikhna dikhna
Be sabak surooron ka saaqi
Mujhe kya parwaah is duniya ki
Tu paas mere, jag paas mere
Main hu hi nahin is duniya ki
Tumhi din chadhe, tumhi din dhale
Tumhi ho bandhu, sakha tumhi
Tumhi din chadhe, tumhi din dhale
Tumhi ho bandhu, sakha tumhi
Every time, every minute all the day
Tumhi ho bandhu, sakha tumhi
Tumhi din chadhe, tumhi din dhale
Tumhi ho bandhu, sakha tumhi