Tu Zaroori Lyrics - Zid
Tu Zaroori Lyrics from Zid is Hindi song sung by Sunidhi Chauhan, Sharib and music is given by Sharib and Toshi. Tu Zaroori song lyrics are written by Shakeel Azmi. Zid is a 2014 Hindi movie starring Karanvir Sharma, Barbie Handa and Mohan Kapoor.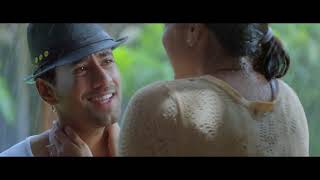 Tu Zaroori Song Detail
Song: Tu Zaroori
Album:
Zid
(2014)
Singer: Sunidhi Chauhan, Sharib
Musician: Sharib, Toshi
Lyricist: Shakeel Azmi
Star Cast: Karanvir Sharma, Barbie Handa, Mohan Kapoor etc.
Tu Zaroori Lyrics
Aisa laga mujhe pehli dafa
Tanha mai ho gai yaara
Ho aisa laga mujhe pehli dafa
Tanha mai ho gai yaara
Hu pareshaan si mai
Ab yeh kehne ke liye
Tu zaroori sa hai
Mujhko zinda rehne ke liye
Tu zaroori sa hai mujhko
Zinda rehne ke liye
Aisa laga mujhe pehli dafa
Tanha mai ho gai yaara
Hu pareshaan si mai
Ab yeh kehne ke liye
Tu zaroori sa hai
Mujhko zinda rehne ke liye
Wo tu zaroori sa hai
Mujhko zinda rehne ke liye
Dhadke aakhon me dil mera
Jab kareeb aaoon tere
Dekhun main jab bhi aaina
Haan tuhi ru-ba-ru rahe mere Ishq ki mauj mein aa
Aaja behne ke liye
Tu zaroori sa hai
Mujhko zinda rehne ke liye
Tu zaroori sa hai
Mujhko zinda rehne ke liye
Tu zaroori
Maangoon na koi aasman
Tu sitaaron ka jahan
Ban ja tu mera humsafar
Na mujhe chaahiye koyi makam
Dil hi qaafi hai tera mere rehne ke liye
Tu zaroori sa hai
Mujhko zinda rehne ke liye x (3)
Tu zaroori
More Lyrics From Zid


Saanson Ko