Tere Liye Jaanam Lyrics - Suhaag
Tere Liye Jaanam Lyrics from Suhaag (1994) is penned by Sameer, it's composed by Anand and Milind and sung by S P Balasubramaniam and Chitra. Suhaag is a 1994 Hindi movie starring Akshay Kumar, Ajay Devgn and Karisma Kapoor.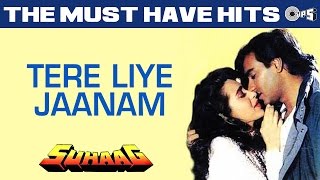 Tere Liye Jaanam Song Detail
Song: Tere Liye Jaanam
Album:
Suhaag
(1994)
Singer: S. P. Balasubramaniam, Chitra
Musician: Anand, Milind
Lyricist: Sameer
Star Cast: Akshay Kumar, Ajay Devgn, Karisma Kapoor etc.
Tere Liye Jaanam Lyrics
Tere liye jaanam, tere liye
Tere liye jaanam, tere liye
Yeh meri saansein, yeh mera jeevan
Bin tere jeena bhi kya
Tere liye jaanam, tere liye
Tere liye jaanam, tere liye
Yeh meri saansein, yeh mera jeevan
Bin tere jeena bhi kya
Tere liye jaanam, tere liye
Tere liye jaanam, tere liye
Hogi koyi na aisi deewani
Tujhse judi hai meri kahaani
Haan hogi koyi na aisi deewani
Tujhse judi hai meri kahaani
Teri wafaa ke aage main haara
Aankhon mein tera chehra utaara
Sath jeena hai, tere sath marna hai
Ho har ghadi sanam bas pyar karna hai
Main do deewana hua
Tere liye jaanam, tere liye
Tere liye jaanam, tere liye
Yeh meri saansein, yeh mera jeevan Bin tere jeena bhi kya
Jhoothi nahi thi meri mohabbat
Maine to ki thi tujhse sharaarat
Aa jhoothi nahi thi meri mohabbat
Maine to ki thi tujhse sharaarat
Maine kiya hai tujhpe bharosa
Doonga kabhi na main tujhko dhokha
Jo kaha na tha, woh aaj kehna hai
Han bin tere ab to mujhko na rehna hai
Dil mera maange dua
Tere liye jaanam, tere liye
Tere liye jaanam, tere liye
Yeh meri saansein, yeh mera jeevan
Bin tere jeena bhi kya
Tere liye jaanam, tere liye
Tere liye jaanam, tere liye
More Lyrics From Suhaag

Main Dekhu Tumhe Tum Na Dekho

Pyar Pyar Pyar Mere Yaar Aise Hua


Shava Yeh Nakhra Ladki Ka