Tashan Mein Lyrics - Tashan Title Song
Tashan Mein Lyrics from Tashan (Title Song) is sung by Vishal Dadlani and Saleem. Tashan Mein song lyrics are written by Piyush Mishra while its music is given by Vishal Shekhar. Tashan is a 2008 Hindi movie starring Akshay Kumar, Anil Kapoor and Saif Ali Khan.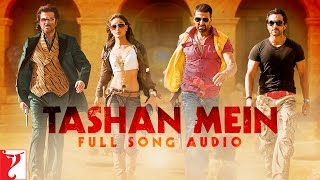 Tashan Mein Song Detail
Song: Tashan Mein
Album:
Tashan
(2008)
Singer: Vishal Dadlani, Saleem
Musician: Vishal Shekhar
Lyricist: Piyush Mishra
Star Cast: Akshay Kumar, Anil Kapoor, Saif Ali Khan etc.
Tashan Mein Lyrics
Hey taali bajave nache gaave
Hey taali bajave nache gaave
Rab hove sareek jihne ke jashan mein
Hey taali bajave nache gaave
Hey taali bajave nache gaave
Hey rab hove sareek jihne ke jashan mein
Apni to baat magar kuchh nirali hai
Apne to khoon mein ishq ki laali hai
Oye apna jeena tho jeena
Tashan mein tashan mein
Tashan mein tashan mein
Tashan mein tashan mein
Tashan mein tashan mein
Tashan mein tashan mein
Tashan mein tashan mein
Tashan mein tashan mein
Tashan mein tashan mein
Dhoop tashan hai raat tashan hai
Apni to har baat tashan hai
Kaise bhi halaat tashan hain
Waise insaan hain
Tedhe apne karam huye hain Hum suraj pe garam huye hain
Kabhi sharam pe sharam huye hain
Thode naadan hain
Humse hairan hai teer Sikandar ka
Humpe kurban ha neel samundar ka
Ho humse hairan hai teer Sikandar ka
Humpe kurban ha neel samundar ka
Hum jaise hain kismat ke lakh sawali hain
Apni to baat magar kuchh nirali hai
Oye apna jeena tho jeena
Tashan mein tashan mein
Tashan mein tashan mein
Tashan mein tashan mein
Tashan mein tashan mein
Tashan mein tashan mein
Tashan mein tashan mein
Tashan mein tashan mein
Tashan mein tashan mein
Taali bajave nache gaave
Hey taali bajave nache gaave
Hey rab hove sareek jihne ke jashan mein
Taali bajave nache gaave
Hey taali bajave nache gaave
Hey rab hove sareek jihne ke jashan mein
Apni to baat magar kuchh nirali hai
Ho apne to khoon mein ishq ki laali hai
Oye apna jeena tho jeena
Tashan mein tashan mein
Tashan mein tashan mein
Tashan mein tashan mein
Tashan mein tashan mein
Tashan mein tashan mein
Tashan mein tashan mein
Tashan mein tashan mein
Tashan mein tashan mein
Tashan mein tashan mein
Tashan mein tashan mein
Tashan mein tashan mein
Tashan mein tashan mein
Tashan mein tashan mein
Tashan mein tashan mein
Tashan mein tashan mein
Tashan mein tashan mein