Sun Saathiya Lyrics - ABCD 2
Sun Saathiya Song Lyrics: This is a romantic song of Varun Dhawan & Shraddha Kapoor starrer film Abcd 2. This track is sung by Priya Saraiya and Divya Kumar. Its music is composed by Sachin Jigar and lyrics are also written by Priya Saraiya. ABCD 2 is a 2015 Hindi movie starring Varun Dhawan, Shraddha Kapoor and Prabhu Dheva.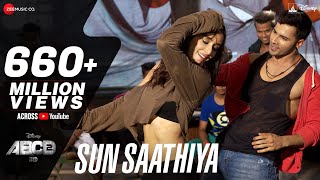 Sun Saathiya Song Detail
Song: Sun Saathiya
Album:
ABCD 2
(2015)
Singer: Priya Saraiya, Divya Kumar
Musician: Sachin Jigar
Lyricist: Priya Saraiya
Star Cast: Varun Dhawan, Shraddha Kapoor, Prabhu Dheva etc.
Sun Saathiya Lyrics
Ho sun saathiya, mahiya barsa de
Ishqan ki siyahiyan
Rang jaaoon, rang rang jaaoon ri
Haan ri main
Tujhpe main jhar jhar, jhar jaaoon haan ri
Hoon piya bas teri main
Ho chhoole to khari main
To khari main, khari main
Sun saathiya, mahiya barsa de
Ishqan ki siyahiyan
Main reit si boond ka zariya tu
Paake tujhe bheeg jaaoon ri
Main reit si boond ka zariya tu
Paake tujhe bheeg jaaoon ri
Tar jaaoon, tar tar jaaoon
Dariya yeh tar jaaoon ji
Ishq yeh paake main tera nikhar jaaoon ri
Piya bas teri main
Ho chhoole to khari main
To khari main, khari main
Sun saathiya, mahiya barsa de
Ishqan ki siyahiyan