Sau Aasoon Lyrics - Katti Batti
Sau Aasoon Lyrics from Katti Batti: This is a very well sung song by Shankar Mahadevan and Rasika Shekhar with nicely composed music by Shankar Ehsaan Loy. Lyrics of Sau Aasoon are beautifully penned by Kumaar. Katti Batti is a 2015 Hindi movie starring Imran Khan and Kangna Ranaut.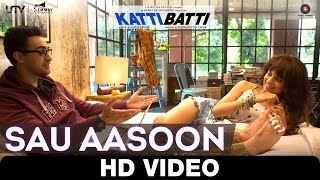 Sau Aasoon Song Detail
Song: Sau Aasoon
Album:
Katti Batti
(2015)
Singer: Shankar Mahadevan, Rasika Shekhar
Musician: Shankar Ehsaan Loy
Lyricist: Kumaar
Star Cast: Imran Khan, Kangna Ranaut etc.
Sau Aasoon Lyrics
Sau aasoon roye do aakhiyan
Sau aansu roye do aakhiyan
Mara hai jinhe needo ne
Kabhi na soye vo aakhiyan
Dil ka musaafir baat na maane
Mud-mud dekhe raste puraane
Zidd chodta hi nahin
Dekh raha hai kanch ke sapne
Ek na ek din hain jo tidakne
Ishq me tooti cheezen jag me
Koyi jodta hi nahin, dil jaane naa
Sau aasoon roye do aakhiyan
Sau aansoo roye do aakhiyan
Mara hai jinhe needo ne
Kabhi na soye vo aakhiyan
Vo aakhiyan
Jaane wala jaane nahin
Jaane se usske jaan gai
Aate jaate phir vo dikhe
Palkon ne chhaane mod kayi
Guzra hua pal guzra nahin
Usska lagaa rang utraa nahin Honton se chhooti nahin
Gaaye saajan ki batiyan
Sau aasoon roye do aakhiyan
Sau aansoo roye do aakhiyan
Mara hai jinhe needo ne
Kabhi na soye vo aakhiyan
Kaise koyi roke bhala
Hath laqiren chodd gayi
Lakhon dil ke tukde kiye
Dhadkan ko bhi tod gayi
Kabhi theharega dard kahi
Koyi gunjaaish dikhti nahin
Chanda bin diya na lage
Jale kajal si rattiyaan
Sau aasoon roye do aakhiyan
Sau aansu roye do aakhiyan
Mara hai jinhe needo ne
Kabhi na soye vo aakhiyan
Sau aasoon roye..
Sau aasoon roye do aakhiyan
Sau aansoo roye do aakhiyan
Sau aansu roye..
Mara hai jinhe needo ne
Kabhi na soye vo aakhiyan
More Lyrics From Katti Batti


Jaago Mohan Pyaare