Rangeen Fiza Hai Lyrics - Bahu Beti
Rangeen Fiza Hai Lyrics from the movie Bahu Beti is sung by Mahendra Kapoor and Asha Bhosle, its music is composed by Ravi and lyrics are written by Sahir Ludhianvi. Bahu Beti is a 1965 Hindi movie starring Joy Mukherjee, Mala Sinha and Ashok Kumar.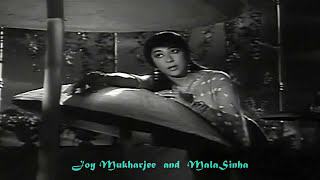 Rangeen Fiza Hai Song Detail
Song: Rangeen Fiza Hai
Album:
Bahu Beti
(1965)
Singer: Mahendra Kapoor, Asha Bhosle
Musician: Ravi
Lyricist: Sahir Ludhianvi
Star Cast: Joy Mukherjee, Mala Sinha, Ashok Kumar etc.
Rangeen Fiza Hai Lyrics
Rangeen fiza hai, rangeen fiza hai
Aaja ke mera pyar tujhe dhoondh raha hai
Rangeen fiza hai
Yeh kiski sada hai, yeh kiski sada ha
Yeh kaun mujhe apni taraf kheench raha hai
Yeh kiski sada hai
Teri bhi hai yeh meri hi awaaz nahi hai
Teri bhi hai yeh meri hi awaaz nahi hai
Aye jaan-e-tamanna yeh koi pyar nahi hai
Tu mujhse juda hoke bhi kab mujhse juda hai
Dil dil se mila hai
Yeh kaun mujhe apni taraf kheench raha hai
Yeh kiski sada hai
Tum mujhko bulaate ho to taala nahi jaata
Tum mujhko bulaate ho to taala nahi jaata
Anpe ko kisi tarah sambhala nahi jaata
Zulfon ke mujhe hosh na aanchal pata hai
Yeh kaisa nasha hai
Aaja ke mera pyar tujhe dhoondh raha hai
Rangeen fiza hai
Duniya ko bhulakar meri baahon mein chali aa
Duniya ko bhulakar meri baahon mein chali aa Jazbat ki befiqra panaahon mein chali aa
Kehte hain jise ishq woh jeene adaa hai
Achcha na bura hai
Yeh kaun mujhe apni taraf kheench raha hai
Yeh kiski sada hai
Aaja ke mera pyar tujhe dhoondh raha hai
Rangeen fiza hai
More Lyrics From Bahu Beti


Sab Mein Shamil Ho Magar


Jiyo To Aise Jiyo Jaise Sab Tumhara Hai


Aaj Hai Karwa Chauth Sakhi