Preet Yeh Kaisi Lyrics - Daag
Preet Yeh Kaisi Lyrics from Daag is Hindi song sung by Lata Mangeshkar and music is given by Shankar Jaikishan. Preet Yeh Kaisi song lyrics are written by Shailendra. Daag is a 1952 Hindi movie starring Dilip Kumar, Nimmi and Usha Kiran.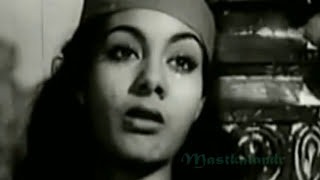 Preet Yeh Kaisi Song Detail
Song: Preet Yeh Kaisi
Album:
Daag
(1952)
Singer: Lata Mangeshkar
Musician: Shankar Jaikishan
Lyricist: Shailendra
Star Cast: Dilip Kumar, Nimmi, Usha Kiran etc.
Preet Yeh Kaisi Lyrics
Preet yeh kaisi bol ri duniya
Preet yeh kaisi bol duniya
Bol ri duniya bol
Dhool mein man ka heera rove
Koyi na poochhe mol ri duniya
Bol ri duniya bol
Preet yeh kaisi bol ri duniya
Preet yeh kaisi bol duniya
Bol ri duniya bol
Dekhun main ek sundar sapna
Dhoondu taaron mein ghar apna
Dhoondu taaron mein ghar apna
Dekhun main ek sundar sapna
Dhoondu taaron mein ghar apna
Dhoondu taaron mein ghar apna
Andhi kismat so rahi hai
Yeh sapne anmol ri duniya
Preet yeh kaisi bol
Preet yeh kaisi bol ri duniya
Preet yeh kaisi bol duniya
Bol ri duniya bol
Doob gaya din shaam ho gayi Jaise umar tamaam ho gayi
Jaise umar tamaam ho gayi
Meri maut khadi hai dekho
Apna ghoonghat khol re
Preet yeh kaisi bol
Meri maut khadi hai dekho
Apna ghoonghat khol re
Preet yeh kaisi bol
Preet yeh kaisi bol ri duniya
Preet yeh kaisi bol duniya
Bol ri duniya bol
Mere sukh se bol aye daata
Kya jaata teri duniya ka
Kya jaata teri duniya ka
Mere sukh se bol ai daata
Kya jaata teri duniya ka
Kya jaata teri duniya ka
Pyar ka amrit deke toone
Zehar diya kyun ghol aye duniya
Preet yeh kaisi bol
Preet yeh kaisi bol ri duniya
Preet yeh kaisi bol duniya
Bol ri duniya bol