O Kamini Lyrics - Rang Rasiya
O Kamini Lyrics from the movie Rang Rasiya is sung by Sonu Nigam, its music is composed by Sandesh Shandilya and lyrics are written by Manoj Muntashir. Rang Rasiya is a 2014 Hindi movie starring Randeep Hooda, Nandana Sen and Paresh Rawal.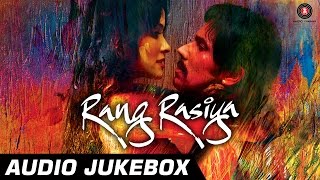 O Kamini Song Detail
Song: O Kamini
Album:
Rang Rasiya
(2014)
Singer: Sonu Nigam
Musician: Sandesh Shandilya
Lyricist: Manoj Muntashir
Star Cast: Randeep Hooda, Nandana Sen, Paresh Rawal etc.
O Kamini Lyrics
Yaad hai apna pehla milan
Srishti ka woh pehla sawan
Tu yugon ki pyaasi dharti thi
Tujhe prem ke baadal ghere the
Tere tapte huye tan pe jo jhare
Woh meghdoot sab mere the
O Kamini, O Kamini
Tere tan mandir mein mera man khoya
Jaaga sapna soya soya
Bade lutere naina tore
Sudh budh main to bhool gayo re
Ek lachak mein sau hilkore
Jogan bhaag jagaa de more
O Kamini, O Kamini
O Kamini!
Kaaya teri, bhaaya darpan
Yeh indradhanush tujhko arpan
Aa odh loon tujhko o bairan
Jaise dharti odhe neel gagan
Hum milenge yeh tab se tay tha
Jab chamak nahi thi taaron mein
Na soch yeh neeti kya kehti hai Aa beh ja meri dhaaron mein
O Kamini, O Kamini
O Kamini, O Kamini