Nazrein Kahan Lyrics - Jashnn
Nazrein Kahan Lyrics from Jashnn is sung by Kay Kay and Shreya Ghoshal and written by Kumaar. Music of Nazrein Kahan is composed by Sharib and Tochi Raina. Jashnn is a 2009 Hindi movie starring Adhyayan Suman, Anjana Sukhani and Shahana Goswami.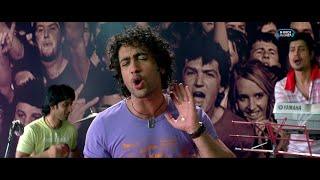 Nazrein Kahan Song Detail
Song: Nazrein Kahan
Album:
Jashnn
(2009)
Singer: Kay Kay, Shreya Ghoshal
Musician: Sharib, Tochi Raina
Lyricist: Kumaar
Star Cast: Adhyayan Suman, Anjana Sukhani, Shahana Goswami etc.
Nazrein Kahan Lyrics
Ishq ka hai kaam purana
Chain banke chain churana x (2)
Nazrein kahan sooti hain
Neendein dhuan hoti hain x (2)
Jab din yeh dhale palkon ke tale
Koyi saasein le oh jaana
Khamosh rahe kabhi chupke se
Koyi baat kare oh jaana
Ishq ka hai kaam purana
Chain banke chain churana x (2)
Nazrein kahan sooti hain
Neendein dhuan hoti hain
Jab din yeh dhale palkon ke tale
Koyi saasein le oh jaana
Khamosh rahe kabhi chupke se
Koyi baat kare oh jaana
Ishq ka hai kaam purana
Chain banke chain churana x (2)
Uski hi yaadon ke
Lamhon ki aahat hai
Khwaabon khayalon ki raahon mein
Milke woh jaaye to Rang uski kushbu ke
Bekhrein hi rehte hain baahon mein
Koyi jaadu chahat pe kar leta hai kaabu x (2)
Jab din yeh dhale palkon ke tale
Koyi saasein le oh jaana
Khamosh rahe kabhi chupke se
Koyi baat kare oh jaana
Ishq ka hai kaam purana
Chain banke chain churana x (2)
Chain banke chain churana
Aankhon mein padh lo tum
Ya sun lo hothon se
Uske hi chehre ki baatein hain
Ghuzre yeh din saare
Uske hi saaye mein
Uski panahon mein raatein hain
Dil aaye dil pe to wapas na ja paye x (2)
Jab din yeh dhale palkon ke tale
Koyi saasein le oh jaana
Khamosh rahe kabhi chupke se
Koyi baat kare oh jaana
Ishq ka hai kaam purana
Chain banke chain churana x (2)