Naughty No.1 Lyrics - Barkhaa
Naughty No.1 Lyrics from the movie Barkhaa is sung by Neha Kakkar, its music is composed by Amjad Nadeem and lyrics are written by Sameer Anjaan and Shadab Akhtar. Barkhaa is a 2015 Hindi movie starring Sara Loren, Taaha Shah and Priyanshu Chatterjee.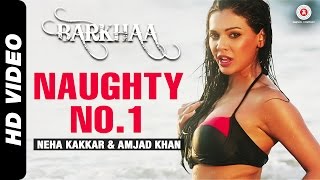 Naughty No.1 Song Detail
Song: Naughty No.1
Album:
Barkhaa
(2015)
Singer: Neha Kakkar, Amjad Khan
Musician: Amjad Nadeem
Lyricist: Sameer Anjaan, Shadab Akhtar
Star Cast: Sara Loren, Taaha Shah, Priyanshu Chatterjee etc.
Naughty No.1 Lyrics
Jo hip ko hila du
Main sabko nacha du
Mere jalwon se main
Saari duniya hila du x (2)
Sexy adaaon se sabko lubhaaya hai
Aao na baby just come come come!
Main naughty no. 1 hu
Main naughty no. 1 hu
Come hip ko hila
Chal sab ko hila
Main naughty no. 1 hu
Aah main naughty no. 1 hu
Come hip ko hila
Chal sab ko hila
Naughty naughty na na-ughty
Naughty naughty na na na na naughty
Saare ke saare boys
Mujhe follow karte hain
Main sabki destiny
Sab mujhse kehte hain
Saare ke saare boys
Mujhe follow karte hain Main sabki destiny
Sab mujhse kehte hain
Har dil jo kill karde
Main aisi beauty hu
Kiss karna chaahein sab
Main aisi cutie hu
Sexy adaaon se sabko lubhaaya hai
Aao na baby just come come come!
Main naughty no. 1 hu
Main naughty, main naughty
Main naughty no. 1 hu
Come hip ko hila
Chal sab ko hila
Main naughty no. 1 hu
Aah main naughty no. 1 hu
Come hip ko hila
Chal sab ko hila
Come hip ko hila
Chal sab ko hila
Dariya ki maujein hu
Namkin water hu
Mujhko na touch karna
Hottie se hotter hu
Dariya ki maujein hu
Namkin water hu
Mujhko na touch karna
Hottie se hotter hu
Bheege libaason mein
Sholay bhadkaati hu
Dream mein aati hu
Sabko tadpaati hu
Sexy adaaon se sabko lubhaaya hai
Aao na baby just come come come!
Main naughty no. 1 hu
Main naughty no. 1 hu
Come hip ko hila
Chal sab ko hila
Main naughty no. 1 hu
Main naughty no. 1 hu
Come hip ko hila
Chal sab ko hila
More Lyrics From Barkhaa


Pehli Dafa


Lafze Bayaan


Mann Qunto Maula