Naraz Savera Hai Lyrics - Sangharsh
Lyrics of Naraz Savera Hai from Sangharsh: This is a very well sung song by Kumar Sanu with nicely composed music by Jatin and Lalit. Naraz Savera Hai Lyrics are beautifully penned by Sameer. Sangharsh is a 1999 Hindi movie starring Akshay Kumar, Preity Zinta and Madan Jain.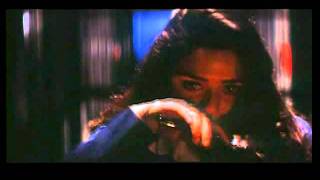 Naraz Savera Hai Song Detail
Song: Naraz Savera Hai
Album:
Sangharsh
(1999)
Singer: Kumar Sanu
Musician: Jatin, Lalit
Lyricist: Sameer
Star Cast: Akshay Kumar, Preity Zinta, Madan Jain etc.
Naraz Savera Hai Lyrics
Naraz savera hai, har oar andhera hai
Naraz savera hai, har oar andhera hai
Koi kiran to aaye kahin se aaye aaye
Naraz savera hai, har oar andhera hai
Koi kiran to aaye kahin se aaye aaye
Naraz savera hai
Zindagi tanhaaiyon ka karz hai, naam hai
Har khushi dhalti hui dukh bhari shaam hai
Saanson ke khazanon ka yeh waqt lutera hai
Koi kiran to aaye kahin se aaye, aaye
Naraz savera hai
Raat ki khaamoshiyon mein anasuna shor hai
Kheenchti bandhe bina hi kaun si ye dor hai
Bejaan salaakhon ne meri rooh ko ghera hai
Koi kiran to aaye kahin se aaye aaye
Naraz savera hai
Wo mere bachpan ka mausam wo zamana kho gaya
Maut ke saaye mein reh ke
Bejubaan main ho gaya
Zakhmon ki zameenon pe zulmon ka basera hai
Koi kiran to aaye kahin se aaye aaye
Naraz savera hai, har oar andhera hai Koi kiran to aaye kahin se aaye aaye
Aaye aaye, aaye aaye
Part 2:
Nazdeek savera hai, pal bhar ka andhera hai
Nazdeek savera hai, pal bhar ka andhera hai
Mere liye na ashq bahaao jao jao
Nazdeek savera hai
De raha mujhko sadaayein woh khula aasman
Le rahi meri balaayein woh haseen waadiyan
Tum lao ujaalon ko sapna yehi mera hai
Din hain khushi ke geet milan ke gao gao
Gao gao, gao gao, gao gao
More Lyrics From Sangharsh


Mujhe Raat Din Bas Mujhe Chahti Ho