Nanga Punga Dost Lyrics - PK - Shreya Ghoshal
Nanga Punga Dost Lyrics from the movie Pk is sung by Shreya Ghoshal, its music is composed by Shantanu Moitra and lyrics are written by Swanand Kirkire. PK is a 2014 Hindi movie starring Aamir Khan, Anushka Sharma and Sushant Singh Rajput.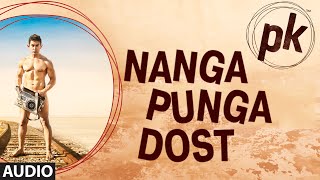 Nanga Punga Dost Song Detail
Song: Nanga Punga Dost
Album:
PK
(2014)
Singer: Shreya Ghoshal
Musician: Shantanu Moitra
Lyricist: Swanand Kirkire
Star Cast: Aamir Khan, Anushka Sharma, Sushant Singh Rajput etc.
Nanga Punga Dost Lyrics
Bhaagi bhaagi zindagi re
Pichhe pichhe main chali re
Nai raahein, naye-naye mod
Anjaani gali mein mila
Awara sa, banjara sa
Tinga tinga nanga punga dost
Bhaagi bhaagi zindagi re
Pichhe pichhe main chali re
Nai raahein, naye-naye mod
Anjaani gali mein mila
Awara sa, banjara sa
Tinga tinga nanga punga dost
Aaya hai kahan se woh
Kya dhundne woh aaya hai
Ik boond bhi usne na pi
Par PK woh kehlaya hai
Tinga-tinga nanga-punga
Tinga-tinga nanga-punga
Tinga-tinga nanga-punga dost
Tinga-tinga nanga-punga
Tinga-tinga nanga-punga
Tinga-tinga nanga-punga dost
Kabhi lagta hai joker hai woh
Kabhi lagta lofer
Chor uchakka nipat anaadi
Science ka professor
Oye oye hoye hoye hoye
Kabhi lagta hai joker hai woh
Kabhi lagta lofer
Arre chor uchakka nipat anaadi
Science ka professor
Duniya nashe mein talli thi
Yeh hosh mein usse laya tha
Tharra de jo poori dharti ko
Woh sawal usne uthaya tha
Tinga-tinga nanga-punga
Tinga-tinga nanga-punga
Tinga-tinga nanga-punga dost
Tinga-tinga nanga-punga
Tinga-tinga nanga-punga
Tinga-tinga nanga-punga dost
Muskaane ka gur bhi sikhaya
Peena sikhaya gham
Yaadein karodon jisne dee
Use kaise bhulayein hum
Ho muskaane ka gur bhi sikhaya
Peena sikhaya gham
Yaadein karodon jisne dee
Use kaise bhulayein hum
Tareekh mein aisa koyi
Na aaya hai, na aaya tha
Ik boond bhi usne na pi
Par PK woh kehlaya hai
Tinga-tinga nanga-punga
Tinga-tinga nanga-punga
Tinga-tinga nanga-punga dost
Tinga-tinga nanga-punga
Tinga-tinga nanga-punga
Tinga-tinga nanga-punga dost
Aaya hai kahan se woh
Kya dhundne woh aaya hai
Ik boond bhi usne na pi
Par PK woh kehlaya hai
Tinga-tinga nanga-punga
Tinga-tinga nanga-punga
Tinga-tinga nanga-punga dost
Tinga-tinga nanga-punga
Tinga-tinga nanga-punga
Tinga-tinga nanga-punga dost
Tinga-tinga nanga-punga
Tinga-tinga nanga-punga
Tinga-tinga nanga-punga dost