Naina Bawre Lyrics - Tishnagi | Palak Muchhal
Naina Bawre Lyrics from Tishnagi is Hindi duet sung by Palak Muchhal and Amit Mishra. Its music is composed by Gufy and lyrics of this song is written by Manzer Baliyavi. Tishnagi is a 2018 Hindi movie starring Aryan Vaid, Qais Tanvee and Rajpal Yadav.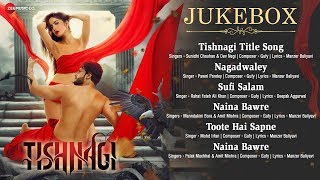 Naina Bawre Song Detail
Song: Naina Bawre
Album:
Tishnagi
(2018)
Singer: Palak Muchhal, Amit Mishra
Musician: Gufy
Lyricist: Manzer Baliyavi
Star Cast: Aryan Vaid, Qais Tanvee, Rajpal Yadav etc.
Naina Bawre Lyrics
Teri nigahon ne kahaani jo kahi
Sunti rahi main is kadar humsafar
Sadiyon se doobi inmein phir bhi lage
Jaane kya mujhko mukhtasar mukhtasar
Baatein hai teri gud ki dali si
Sunta hi jaaun laage bhali si x (2)
Kaisa asar hai sawre sawre
Naina yeh tere bawre
Sawre naina yeh tere bawre
Sawre naina yeh tere bawre
Is dil mein chaahat ki
Bajti hain shehnaiyan
Yeh khushiyan leti hain
Reh reh ke angdaaiyan x (2)
Tujhse hi roshan hain yeh saare nazare
Samjhe yeh mausam bhi tere ishare x (2)
Kar de yeh manzar sab hare, sab hare
Naina yeh tere bawre
Sawre naina yeh tere bawre
Sawre naina yeh tere bawre
Anjaani raahon se
Jab do dil milte hain Phoolon ki rangat se
Tab chehre khilte hain x (2)
Tu apsara hai ya koyi pari hai
Aankhon mein tere kaisi jaadugari hai x (2)
Lagte hain kaise mad bhare, mad bhare
Naina yeh tere bawre
Sawre naina yeh tere bawre
Sawre naina yeh tere bawre