Naam Kya Hai Lyrics - Yeh Dillagi
Naam Kya Hai Lyrics from Yeh Dillagi is sung by Lata Mangeshkar and Kumar Sanu. Naam Kya Hai song lyrics are written by Sameer while its music is given by Dilip Sen-Sameer Sen. Yeh Dillagi is a 1994 Hindi movie starring Kajol, Akshay Kumar and Saif Ali Khan.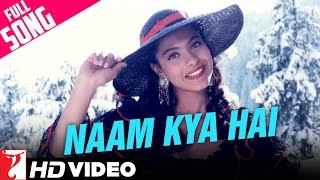 Naam Kya Hai Song Detail
Song: Naam Kya Hai
Album:
Yeh Dillagi
(1994)
Singer: Lata Mangeshkar, Kumar Sanu
Musician: Dilip Sen-Sameer Sen
Lyricist: Sameer
Star Cast: Kajol, Akshay Kumar, Saif Ali Khan etc.
Naam Kya Hai Lyrics
Naam kya hai pyar ka maara
Ghar ka pata do dil hai tumhara
Arre naam kya hai pyar ka maara
Ghar ka pata do dil hai tumhara
Kya karte ho tumse pyar
Iska nateeja kuchh ho yaar
Naam kya hai pyar ka maara
Ghar ka pata do dil hai tumhara
Kya karte ho tumse pyar
Iska nateeja kuchh ho yaar
Naam kya hai pyar ka maara
Main tera deewana tu meri deewani
Aise kyon hai khafa
Kuchh na maanu main jaanu jaanu main
Teri marzi hai kya
Kabhi Laila Majnu
Arre jaa re jaa re jaa
Kabhi Shiri Farhad
Mujhe aise na sata
Kabhi Ranjha kabhi Heer
Dil rakh doon main cheer
Kabhi Romeo Juliet Chal hat baaju hat
Naam kya hai pyar ka maara
Ghar ka pata do dil hai tumhara
Kya karte ho tumse pyar
Iska nateeja kuchh ho yaar
Naam kya hai pyar ka maara
Seene mein dil hai
Dil mein dhadkan hai
Dhadkan mein tu basi
Teri baaton mein
Main na aaungi
Yoon na kar dillagi
Ho chhodun na teri gali
Tu hai bhanwra main kali
Ho rani aise na akad
Meri baahein na pakad
Hai irada mera nek
Tu deewana dil phenk
Mujhe khwabon mein basa
Aisi baatein na bana
Naam kya hai pyar ka maara
Ghar ka pata do dil hai tumhara
Arre naam kya hai pyar ka maara
Ghar ka pata do dil hai tumhara
Kya karte ho tumse pyar
Iska nateeja kuchh ho yaar
Naam kya hai pyar ka maara
Ghar ka pata do dil hai tumhara
Arre naam kya hai pyar ka maara
Ghar ka pata do dil hai tumhara
Naam kya hai pyar ka maara