Mora Rangdar Saiyan Lyrics - Jigariyaa
Mora Rangdar Saiyan Lyrics from Jigariyaa: This is a very well sung song by Prajakta Shukre and Roop Kumar Rathod with nicely composed music by Agnel Roman & Faizan Hussain. Lyrics of Mora Rangdar Saiyan are beautifully penned by Arun Kumar. Jigariyaa is a 2014 Hindi movie starring Harshvardhan Deo, Cherry Mardia and K K Raina.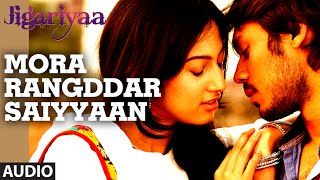 Mora Rangdar Saiyan Song Detail
Song: Mora Rangdar Saiyan
Album:
Jigariyaa
(2014)
Singer: Prajakta Shukre, Roop Kumar Rathod
Musician: Faizan Hussain, Agnel Roman
Lyricist: Arun Kumar
Star Cast: Harshvardhan Deo, Cherry Mardia, K K Raina etc.
Mora Rangdar Saiyan Lyrics
Haaye mora rangdar saiyan
Mora dildar saiyaan
Mora pehla pyar saiyan
Tu hai, haan tu hai
Tora leke hath saiyan
Aayi is paar saiyan
Jahan tu hi tu hai saiyaan
Tu hai, haan tu hai
O saiyaan hamri bhi hogi ik duniya
O saiyaan hamri bhi hogi ik duniya
Chahe kuchh bhi jaaye
Jaayegi yeh paar naiya
Ho poora hua sapna hamra
Chhota sa ghar ab hamra
Aur more saath saiyaan
Tu hai, haan tu hai
Rahegi na doori koi honge sath sath re
Pyar ki yeh chaadar piya odhe saari raat re
Piya... re..
Tananum tananum tananum
Haaye rahegi na doori koi honge sath sath re
Pyar ki yeh chaadar piya odhe saari raat re O baahon mein leke tohe sab se chupaunga
Jaisa toone socha hai jahan woh banaaunga
Chahe kuchh bhi ho jaaye
Chodoonga na tori bahiyan
Mora rangdar saiyan
Mora dildar saiyaan
Mora pehla pyar saiyan
Tu hai, haan tu hai
Haaye bheegi bheegi saansein mori
Piya tore pyar mein
Nainon se choo le mohe jiya bekarar re
Jiya..
O. jiya bekarar
Bheegi bheegi saansein mori
Piya tore pyar mein
Nainon se choo le mohe jiya bekarar re
Pyar ki mehndi tohe sajni lagaaunga
Preet ka kangna tohe haan main pehnaaunga
Chahe kuchh bhi ho jaaye
Rahoonga main tora saiyan
Poora hua sapna hamra
Chota sa ghar ab hamra
Aur more sath saiyan
Tu hai (tu hai)
Haan tu hai (tu hai)
Haan mora rangdar saiyan
Mora dildar saiyaan
Mora pehla pyar saiyan
Tu hai (tu hai)
Haan tu hai (tu hai)
Tora leke haath saiyan
Aayi is paar saiyaan
Jahan tuhi tu hai saiyan
Tu hai (tu hai)
Haan tu hai, haan tu hai, haan tu hai
Tananum tananum tananum tananum
Tananum tananum tananum