Looie Shama Sha Lyrics - Kranti
Looie Shama Sha Lyrics from the movie Kranti is sung by Lata Mangeshkar and Nitin Mukesh, its music is composed by Laxmikant and Pyarelal and lyrics are written by Santosh Anand. Kranti is a 1981 Hindi movie starring Dilip Kumar, Manoj Kumar and Hema Malini.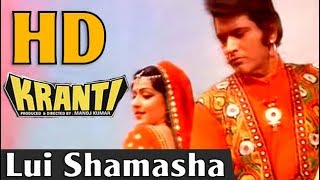 Looie Shama Sha Song Detail
Song: Looie Shama Sha
Album:
Kranti
(1981)
Singer: Lata Mangeshkar, Nitin Mukesh
Musician: Laxmikant, Pyarelal
Lyricist: Santosh Anand
Star Cast: Dilip Kumar, Manoj Kumar, Hema Malini etc.
Looie Shama Sha Lyrics
Tan bhi badla, man bhi badla
Badal gayi hai kaya
Kaali raat se jeewan ko
Ab mil gayi ujli chhaya
Yeh dil waalon ki basti hai
Yeh baste baste basti hai
Gham ko khushi mein dhaal de jo
Bharat ki aisi hasti hai
Jisne racha sansar hai yeh
Hum rachna uski gaate hain
Looie shama sha ui ui ui ui ui ui
Ui ui ui ui
Looie shama sha ui, looie shama sha
Le ja pyar zara sa, de ja pyar zara sa
Ui ui ui ui
Looie shama sha ui, looie shama sha
Le ja pyar zara sa, de ja pyar zara sa
Le ja pyar zara sa, de ja pyar zara sa
Le ja pyar zara sa, de ja pyar zara sa
Looie shama sha ui ui
Ui ui ui ui
Looie shama sha ui, looie shama sha Le ja pyar zara sa, de ja pyar zara sa
Ui ui ui ui
Looie shama sha ui, looie shama sha
Le ja pyar zara sa, de ja pyar zara sa
Mausam ne lee angdaai hai
Qudrat ne baandhi payal hai
Haaye main kiski baat karoon
Dil mera hi to ghayal hai
Rishton ki mehndi le aao
Rishto ki mehandi le aao
Dulhan sa mujhe sajao
Dulhan sa mujhe sajao ri
Prem ki bhasha ui ui ui ui ui ui
Prem ki bhasha ui, prem ki bhasha
Le ja pyar zara sa, de ja pyar zara sa
Ui ui ui ui
Looie shama sha ui, looie shama sha
Le ja pyar zara sa, de ja pyar zara sa
Ho dil chanda ka le aayenge
Sooraj se aankh milaayenge
Aa jaayenge jab apni par
Taaron ko tod ke laayenge
Dil chanda ka le aayenge ho ho
Manzil hai apni raahon mein
Aakash hamaari baahon mein
Dekh tamasha ui ui ui ui ui ui
Dekh tamasha ui, dekh tamasha
Le ja pyar zara sa, de ja pyar zara sa
Ui ui ui ui
Looie shama sha ui, looie shama sha
Le ja pyar zara sa, de ja pyar zara sa
Uthkar girna, girkar uthna
Jeewan ki reet purani hai
Uthkar girna, girkar uthna
Jeewan ki reet purani hai
Chattanon se takraane ki
Humne bhi man mein thaani hai
Parvat ko dhool bana denge
Parvat ko dhool bana denge
Sagar ko boond bana denge
Jaagi asha ui ui ui ui ui ui
Jaagi asha ui, jaagi asha
Le ja pyar zara sa, de ja pyar zara sa
Ui ui ui ui
Looie shama sha ui, looie shama sha
Le ja pyar zara sa, de ja pyar zara sa
Ho le ja pyar zara sa, de ja pyar zara sa
Le ja pyar zara sa, de ja pyar zara sa
Looie shama sha ui ui ui ui ui ui
Looie shama sha ui, looie shama sha
Le ja pyar zara sa, de ja pyar zara sa
Ho le ja pyar zara sa, de ja pyar zara sa
Ho le ja pyar zara sa, de ja pyar zara sa