Let's Celebrate Lyrics - Tevar
Let's Celebrate lyrics from the movie Tevar is sung, composed and written by Imran Khan. This is a party number featuring Arjun Kapoor and Sonakshi Sinha. Tevar is a 2015 Hindi movie starring Arjun Kapoor, Sonakshi Sinha and Manoj Bajpayee.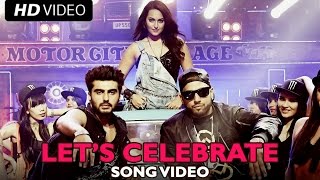 Lets Celebrate Song Detail
Song: Lets Celebrate
Album:
Tevar
(2015)
Singer: Imran Khan
Musician: Imran Khan
Lyricist: Imran Khan
Star Cast: Arjun Kapoor, Sonakshi Sinha, Manoj Bajpayee etc.
Lets Celebrate Lyrics
Hey listen baby, baby!
I do anything for You man
I'm just joking, joking!
I even go to the moon for you
So tu ho ja meri ready, ready!
No I won't wait anymore
I just wanna party, hard!
Like an animal
I see her dancing
Lagdi outstanding
No love or passion
For you all this was a fashion
Teri blue rang di jeans
To neele color di kameez
Te sadda dil kargi tu freeze
Saanu lagni Dutch police ae
Let's celebrate
Let's celebrate this moment
Moment moment moment
Lets Instagram this
Lets Instagram this moment
Moment moment moment I just wanna live this moment
Moment moment
All the time
Shake the body
Shake that body
Shake your body
Celebrate
Shake the body
Shake that body
Shake the body
They call me the mood mechanic
Taine fix karaan main automatic, quick
Aaj-kal but wanna be rappers
Afsos di gal I'm the baddest
Je ho gayi tu bechain
Tera ban ja main Superman
Tainu fikar di karna na load
Tu lagni puri vi*gra
Tere moves bade ne kamaal de
Tere lachche warge baal ne
Saade dil nikal gai jaan ve
Let's celebrate
Let's celebrate this moment
Moment moment moment
Lets Instagram, this!
Lets Instagram this moment
Moment moment, moment!
I just wanna live this moment
Moment moment
More Lyrics From Tevar

Main Nai Jaana Pardes


Main To Superman

Joganiya