Lazy Lad Saiyaan Lyrics - Ghanchakkar
Lazy Lad Saiyaan Lyrics from the movie Ghanchakkar is sung by Richa Sharma, its music is composed by Amit Trivedi and lyrics are written by Amitabh Bhattacharya. Ghanchakkar is a 2013 Hindi movie starring Emraan Hashmi, Vidya Balan and Rajesh Sharma.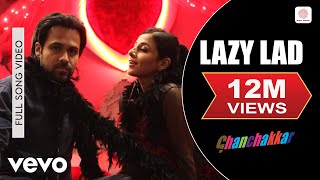 Lazy Lad Saiyaan Song Detail
Song: Lazy Lad Saiyaan
Album:
Ghanchakkar
(2013)
Singer: Richa Sharma
Musician: Amit Trivedi
Lyricist: Amitabh Bhattacharya
Star Cast: Emraan Hashmi, Vidya Balan, Rajesh Sharma etc.
Lazy Lad Saiyaan Lyrics
Leit ke sofe pe killa gaadein
Plasma TV ka mukhda taadein
Lazy lad, lazy lad saiyaan
Lo kallo baat
Kaam ki baaton se palla jhaadein
Bewajah kismat pe yeh bill phaadein
Arey lazy lad, lazy lad saiyaan
Lo kallo baat
Aida hai haaye re aaha
Peda na khaye re aaha
Toko to pucche why why why why baby
Why why why why re
Khote da puttra samjhaun kis tarah
Apna hi rona gaye gaye gaye gaye dekho
Gaye gaye gaye gaye ulte hath
Ulte hath ulte hath lo kallo baat
Kyun phaad ditta ai
Mar jaana kitthe naal
Chal dafa ho
Pressure cooker ki seeti, satana ban ke
Siyaron se seyana bahana kare re
Yeh fan hai khud ka, hi sab se badaa Ku ku ku
Kahyalon ka pulav, milega man mein
Pakaake yeh pulaav, akele khata hai
Nasal hai karele, ki neem pe chadha
Zu zu zu zu
Chal hat
Leit ke sofe pe killa gaadein
Plasma TV ka mukhda taadein
Lazy lad, lazy lad saiyaan
Lo kallo baat
Kaam ki baaton se palla jhaadein
Bewajah kismat pe yeh bill phaadein
Arey lazy lad, lazy lad saiyaan
Lo kallo baat
Pare hat na
More Lyrics From Ghanchakkar


Allah Meharbaan


Jholu Ram


Sun Oye Ghanchakkar Babu