Lag Gayi Lottery Lyrics - Fukrey
Lag Gayi Lottery Lyrics is of a song from film Fukrey (2013). This song is composed by Ram Sampath. Lyrics of Lag Gai Lottery are funny and entertains you. Fukrey is a 2013 Hindi movie starring Pulkit Samrat, Manjot Singh and Ali Fazal.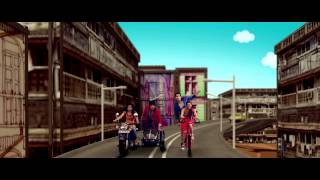 Lag Gayi Lottery Song Detail
Song: Lag Gayi Lottery
Album:
Fukrey
(2013)
Singer: Ram Sampath, Tarannum Mallik
Musician: Ram Sampath
Lyricist: Mrighdeep Singh Lamba
Star Cast: Pulkit Samrat, Manjot Singh, Ali Fazal etc.
Lag Gayi Lottery Lyrics
Lag gayi lottery
Lag gayi lottery - khule saare band tale
Lag gayi lottery - thank you, thank you upar waale
Lag gayi lottery - jo bhi chaha tha wo paya
Lag gayi lottery - din khushiyo ka aaya
Lag gayi lottery
Karna hai ab to hungama
Kaise nahi ab ho hungama
Hota hai to hone do hungama
Chalo zor se bolo
Lag gayi lottery
Throw your hand up in the air now
Lag gayi lottery
Like you just don't care now
Lag gayi lottery
Everybody sing along now
Lag gayi lottery
Sing it LOTTERY
Lag gayi lottery
Kaam hai jiska love karna
Rang sab jiwan mein bharna jee
Dil woh jool hai Jiyo aur jeene bhi do
Duniya mein aisa hi to jee
Apna attitude hai
Haan tum jo samjho
Jeena hai kaise yaaro
To khelo tum jo bazi
Kabhi na haar mano
Bann jaayegi tumhaari
Duniya ki khushiyan saari
Phir chat pe chadhke yeh pukaaro
Lag gayi lottery
Throw your hand up in the air now
Lag gayi lottery
Like you just don't care now
Lag gayi lottery
Everybody sing along now
Lag gayi lottery
Sing it LOTTERY
Lag gayi lottery
Ho chadd saare zamaane diyan gallan
Ho chadd saare zamaane diyan gallan
Koyi pyar di tu gall karde
Koyi pyar di tu gall karde jind meriye
Ho main ta khushi de maare hi marr javaa
Ho main ta khushi de maare hi marr javaa
Je tu pyar isi pal kar le
Je tu pyar isi pal kar le friend meriye
Jo hamko nahin samjha
Jo hamko aivei samjha
Woh usski bhool hai
Life apni hit hai
Future apna fit hai
To sab kuchh cool hai
Karna hai ab to hungama
Kaise nahi ab ho hungama
Hota hai to hone do hungama
Chalo zor se bolo
Lag gayi lottery
Throw your hand up in the air now
Lag gayi lottery
Like you just don't care now
Lag gayi lottery
Everybody sing along now
Lag gayi lottery
Sing it LOTTERY
Lag gayi lottery