Kisko Tha Pata Lyrics - Agnipath
Kisko Tha Pata Lyrics from Agnipath is sung by S P Balasubramaniam and Alka Yagnik. Kisko Tha Pata song lyrics are written by Anand Bakshi while its music is given by Laxmikant Pyarelal. Agnipath is a 1990 Hindi movie starring Amitabh Bachchan, Madhvi and Mithun Chakraborty.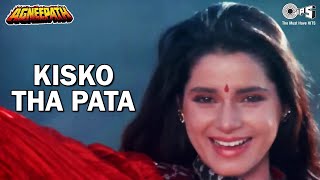 Kisko Tha Pata Song Detail
Song: Kisko Tha Pata
Album:
Agnipath
(1990)
Singer: S. P. Balasubramaniam, Alka Yagnik
Musician: Laxmikant Pyarelal
Lyricist: Anand Bakshi
Star Cast: Amitabh Bachchan, Madhvi, Mithun Chakraborty etc.
Kisko Tha Pata Lyrics
Mere hero, yeh kya karti
Mere jaanu, mujhe dar lagti hai
Mere baalam, tera bhai humko maarti
Tujhe salaam
Mere hero mere jaanu
Mere baalam tujhe salaam
Ai yei yo
Krishnan Iyer MA ke itne saare naam
Toone kyon mujhe bachaya
Bas apna farz nibhya
Kya tu kuchh bhi kar jaaat
Kar jaati
Kar jaati nahi kar jaata bolo
Achha achha kar jaata
Mere liye mar jaata
Haan mar jaata
Oh my god you are in love
Haan you are in love
We are in love
Kisko tha pata kisko thi khabar
We are made for each other
Kisko tha pata kisko thi khabar We are made for each other
Arre humko thi pata
Thi nahi tha
Haan humko tha pata
Humko tha pata, humko thi khabar
We are made for each other
Kisko tha pata, kisko thi khabar
We are made for each other
Tha yeh dil mera dil mera
Ek band lifafa band lifafa
Iss lifafe mein ek prem patra tha
Prem patra tha
Aaj padh liya aaj padh liya
Usko khol kar
We are made for each other
Kisko tha pata, kisko thi khabar
We are made for each other
Arre humko tha pata
Humko tha pata, humko thi khabar
We are made for each other
Par main kya karun
Main bada gareeb hoon
Ho ho ho par main kya karun
Main bada gareeb hoon
Isiliye to main tere kareeb hoon
Isiliye to main tere kareeb hoon
Arre kisi se na dar hu hu hu hu hoo
Kisi se na dar khul ke pyar kar
We are made for each other
Kisko tha pata, kisko thi khabar
We are made for each other
Arre humko tha pata
Humko tha pata, humko thi khabar
We are made for each other
Kisko tha pata, kisko thi khabar
We are made for each other
Kisko tha pata, kisko thi khabar
We are made for each other
More Lyrics From Agnipath


I Am Krishnan Iyer MA


Ali Baba Mil Gaya Chalis Choron Se