Kinare Lyrics - Queen Movie Song
Kinare is a lovely song from 2014 Hindi movie Queen which is sung by Mohan Kanan. Kinare Lyrics are penned by lyricist Anvita Dutt Guptan and music is arranged by Amit Trivedi. Queen is a 2014 Hindi movie starring Kangna Ranaut, Raj Kumar Yadav and Lisa Haydon.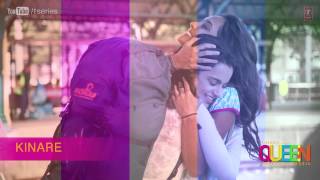 Kinare Song Detail
Song: Kinare
Album:
Queen
(2014)
Singer: Mohan Kanan
Musician: Amit Trivedi
Lyricist: Anvita Dutt Guptan
Star Cast: Kangna Ranaut, Raj Kumar Yadav, Lisa Haydon etc.
Kinare Lyrics
Dhoondhe har ik saans mein
Dubkiyon ke baad mein
Har bhanwar ke paas kinare
Beh rahe jo sath mein
Jo hamare khaas thhe
Kar gaye apni baat kinare
Gar maajhi saare sath mein
Gair ho bhi jaayein
To khud hi to patvaar ban
Paar honge hum
Jo choti si har ik nehar
Saagar ban bhi jaaye
Koi tinka leke hath mein
Dhoondh lenge hum kinare
Kinaare… kinare…
Khud hi to hain hum… kinare
Kaise honge kam… kinaare
Hain jahaan hain hum… kinare
Khud hi to hain hum
Haan… khud hi to hain hum
Auron se kya?
Khud hi se pooch lenge raahein Yaheen kaheen, mauzon mein hi
Dhoondh lenge hum
Boondon se hi to hai waheen
Bandh lenge leharein
Pairon tale jo bhi mile
Baandh lenge hum kinare
Kinaare… kinare…
Khud hi to hain hum… kinare
Kaise honge kam… kinaare
Hain jahan hain hum… kinare
Khud hi to hain hum
Haan… khud hi to hain hum