Khamakha Lyrics - Bewakoofiyaan
Khamakhaan / Khamakha Lyrics from the movie Bewakoofiyaan is nicely written by Anvita Dutt Guptan while music is composed by Raghu Dixit. Ayushman Khurana and Neeti Mohan has sung this song. Bewakoofiyaan is a 2014 Hindi movie starring Ayushmann Khurrana, Sonam Kapoor and Rishi Kapoor.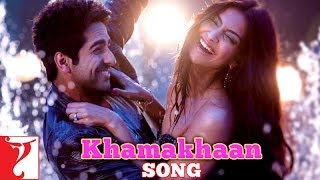 Khamakha Song Detail
Song: Khamakha
Album:
Bewakoofiyaan
(2014)
Singer: Ayushmann Khurrana, Neeti Mohan
Musician: Raghu Dixit
Lyricist: Anvita Dutt Guptan
Star Cast: Ayushmann Khurrana, Sonam Kapoor, Rishi Kapoor etc.
Khamakha Lyrics
Khamakha jod tod kare
Khamakha paai paai pe mare
Khamakha yaar pyaar se dare
Khamakha mujhe kare kyon pare
Har story ki main teri heroine hoon
Har story ki main teri happy ending hoon
Jo toofan aaya bistara uthaya
Dil khaali karke tu chalaa
Tere dil ka kiraya, jo bhar nahi paya
To kar degi mujhko dafa
Par saari life ka waada kiya tha
Jab dil ka sauda hua
Hey khaali jeb hai kaise karoon
Main chukta tere dil ka udhar
Boli laga ke main
Tujhe apne ghar le jaaungi
Ha pehle kuchh ban jaaun main
Tabhi munafa tu payegi
Khamakha pyaar bhar waade
Khamakha lambe-choude hain iraade
Khamakha sapne dekhe hai diwaani
Khamakha apni bigdi kahaani Har story ki main teri heroine hoon
Har story ki main teri happy ending hoon
Jo tu ho daru, tujhko chadha loon
Khud ko bana loon nasha
Baadal ban ke rahoon tujhse milke
Jo tu ban gaya aasman
Kehne ki hain pyaari yeh
Saari baatein, karna easy nahi
Ho.. apne rang chhod
Duje ke rang mein rangna, easy nahi
Berangi saare rang
Pyaar ka hai rang hi rangeen
Baaki sab to badle roz hi
Red, orange, yellow, blue and green
Khamakha karaar mila
Khamakha