Jiya Lage Na Lyrics - Talaash
Jiya Lage Na Lyrics from Talaash is sung by Sona Mohapatra and Ravindra Upadhyay. Jiya Lage Na song lyrics are written by Javed Akhtar while its music is given by Ram Sampath. Talaash is a 2012 Hindi movie starring Aamir Khan, Rani Mukerji and Kareena Kapoor.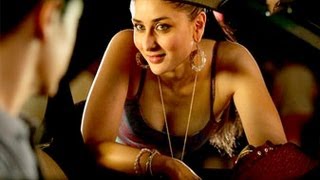 Jiya Lage Na Song Detail
Song: Jiya Lage Na
Album:
Talaash
(2012)
Singer: Sona Mohapatra, Ravindra Upadhyay
Musician: Ram Sampath
Lyricist: Javed Akhtar
Star Cast: Aamir Khan, Rani Mukerji, Kareena Kapoor etc.
Jiya Lage Na Lyrics
Mann tera jo rog hai
Mohe samajh na aaye
Paas hai jo sab chhod ke
Door ko paas bulaaye
Jiya laage na tum bin mora
Jiya laage na tum bin mora
Jiya laage na tum bin mora
Jiya laage na tum bin mora
Kya jaane kyun hai
Kya jaane kaisi andekhi si dor
Jo khenchti hai, jo le chali hai
Jo khenchti hai, jo le chali hai
Ab yun mujhe teri oar
Ho main anjaani hoon woh kahani
Hogi na jo poori
Ho main anjaani hoon woh kahani
Hogi na jo poori
O paas aaoge to paaoge
Paas aaoge to paaoge
Phir bhi hai ik doori
Jiya laage na tum bin mora
Jiya laage na tum bin mora Jiya laage na tum bin mora
Jiya laage na tum bin mora
Jiya
Jiya
Mann ab tak jo boojh na paya
Tum woh pehli ho
Koi na jaane kya woh rahasya hai
Koi na jaane kya woh rahasya hai
Jiski saheli ho
Ho main muskaaoon, sab se chhupaaoon
Vyaakul hoon din rain
Ho main muskaaoon, sab se chhupaaoon
Vyaakul hoon din rain
Kab se na aayi naino mein nindiya
Kab se na aayi naino mein nindiya
Mann mein na aaya chain
Jiya laage na tum bin mora
Jiya laage na tum bin mora
Jiya laage na tum bin mora
Jiya laage na tum bin mora
More Lyrics From Talaash


Laakh Duniya Kahe


Hona Hai Kya


Jee Le Zara