Jeena Jeena Lyrics - Badlapur
Read & sing along Jeena Jeena Lyrics from the movie Badlapur - 2015 which is sung by Atif Aslam. You can also get other songs & lyrics from Badlapur. Badlapur is a 2015 Hindi movie starring Varun Dhawan, Huma Qureshi and Yaami Gautam.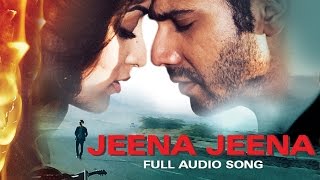 Jeena Jeena Song Detail
Song: Jeena Jeena
Album:
Badlapur
(2015)
Singer: Atif Aslam
Musician: Sachin Jigar
Lyricist: Dinesh Vijan, Priya Saraiya
Star Cast: Varun Dhawan, Huma Qureshi, Yaami Gautam etc.
Jeena Jeena Lyrics
Dahleez pe mere dil ki
Jo rakhe hain tune qadam
Tere naam pe meri zindagi
Likh di mere hamdam
Ha seeka maine jeena jeena kaise jeena
Ha seeka maine jeena mere hamdam
Na seeka kabhi jeena jeena kaise jeena
Na seeka jeena tere bina hamdam x (2)
Sacchi si hain ye tarifein
Dil se jo maine karin hain
Sacchi si hain ye tarifein
Dil se jo maine karin hain
Jo tu milaa to saji hai dunia meri hamdam
Ho asmaan mila zameen ko meri
Aadhe-aadhe poore hain gam
Tere naam pe meri zindagi
Likh di mere hamdam
Ha seeka maine jeena jeena kaise jeena
Ha seeka maine jeena mere hamdam
Na seeka kabhi jeena jeena kaise jeena
Na seeka jeena tere bina hamdam
More Lyrics From Badlapur


Jee Karda