Ishq Mohalla Lyrics - Chashme Buddoor
'Ishq Mohallah' is a hindi song from upcoming movie Chashme Buddoor. This is a Sajid Wajid composition. Wajid and Mika Singh has sung it. Chashme Baddoor is a remake of 1981 hit comedy film with the same title. Famous comedy film director David Dhawan has directed this film according to modern era. Chashme Buddoor is a 2013 Hindi movie starring Taapsee Pannu, Siddharth and Divyendu Sharma.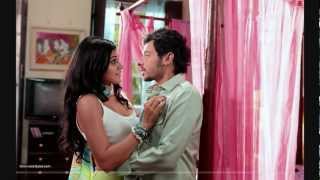 Ishq Mohalla Song Detail
Song: Ishq Mohalla
Album:
Chashme Buddoor
(2013)
Singer: Wajid Ali, Mika Singh
Musician: Sajid-Wajid
Lyricist: Neelesh Misra
Star Cast: Taapsee Pannu, Siddharth, Divyendu Sharma etc.
Ishq Mohalla Lyrics
Ho welcome to the ishq mohallah
Arre yahan hai sab kuchh khullam khulla
Ho welcome to the ishq mohalla
Arre yahan hai sab kuchh khullam khulla
Haye ishkaa ishqi chheda chhedi
Arre nazar ki gendein dil ka balla
Haan dil yeh shyaani hai
Sabke khaatir crazy
Hindi bhashi sundari
Ya memein angrezi
Kar aar-paar, ho ja taiyyar, aaya shikaar
Hum heart beaton ko rokein..
Dil ki dawa hum bhi dete hain
Nazron se pehle qatl karte hain
Aur fir dua bhi hum dete hain
Har haseenon ke gham ishq mein choor hain
Dil ke mehfil mein thoda sa majboor hain
Kar aar-paar, ho ja taiyyar, aaya shikaar
Kar aar-paar
Haaye..
Piddi sa dil bada ziddi hai
Isne bahuteron ko lapeta hai Humko kisko dil dena batla do..
Apne to sabka biodata hai
Tera mera milan consider kar zara
Warna focus karoon doosri par zara
Kar aar-paar, ho ja taiyyar, aaya shikaar
Ho welcome to the ishq mohalla
Arre yahan hai sab kuchh khullam khulla
Haye ishkaa ishqi chheda chhedi
Arre nazar ki gendein dil ka balla
Haan dil yeh shyaani hai
Sabke khaatir crazy
Hindi bhashi sundari
Ya memein angrezi
Kar aar-paar, ho ja taiyyar, aaya shikaar
More Lyrics From Chashme Buddoor


Har Ek Friend Kamina Hota Hai


Early Morning


Dhichkyaaon Doom Doom