Imli Ka Boota Lyrics - Saudagar
Imli Ka Boota Lyrics from the movie Saudagar is sung by Mohammad Aziz and Sudesh Bhonsale, its music is composed by Laxmikant and Pyarelal and lyrics are written by Anand Bakshi. Saudagar is a 1991 Hindi movie starring Dilip Kumar, Raaj Kumar and Vivek Mushran.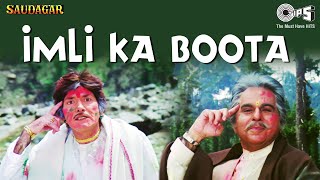 Imli Ka Boota Song Detail
Song: Imli Ka Boota
Album:
Saudagar
(1991)
Singer: Mohammad Aziz, Sudesh Bhonsale
Musician: Laxmikant, Pyarelal
Lyricist: Anand Bakshi
Star Cast: Dilip Kumar, Raaj Kumar, Vivek Mushran etc.
Imli Ka Boota Lyrics
He Raju chal Beeru
He Raju chal Beeru
Tinak tinak tin tara
Tinak tinak re, boom
Tinak tinak tin tara
Tinak tinak re, boom
Imali ka boota, beri ka ped
Imali khatti meethe ber
Imali ka boota, beri ka ped
Imali khatti meethe ber
Iss jangal mein hum do sher
Chal ghar jaldi ho gayi der
Chal ghar jaldi ho gayi der
Imali ka boota, beri ka ped
Imali khatti meethe ber
Iss jangal mein hum do sher
Chal ghar jaldi ho gayi der
Chal ghar jaldi ho gayi der
Imali ka boota, beri ka ped
Jis din se tu rooth gaya
Jis din se tu rooth gaya
Teri kasam dil toot gaya Na jaane kab raat huyi
Na jaane kab saver
Imali ka boota, beri ka ped
Imali khatti meethe ber
Iss jangal mein hum do sher
Chal ghar jaldi ho gayi der
Chal ghar jaldi ho gayi der
Imali ka boota, beri ka ped
Raunak pyar ke naam ki hai
Yeh daulat kis kaam ki hai
Raunak pyar ke naam ki hai
Yeh daulat kis kaam ki hai
Tere bina heere moti
Lagte hain mitti ke dher
Imali ka boota, beri ka ped
Imali khatti meethe ber
Iss jangal mein hum do sher
Chal ghar jaldi ho gayi der
Chal ghar jaldi ho gayi der
Imali ka boota, beri ka ped
Tinak tinak tin tara
Tinak tinak re boom
Tinak tinak tin tara
Tinak tinak re boom
Tinak tinak tin tara
Tinak tinak re boom
Tinak tinak tin tara
Tinak tinak re boom
More Lyrics From Saudagar


Ilu Ilu