Husn Hai Suhana Lyrics - Coolie No 1
Husn Hai Suhana Lyrics from Coolie No 1 is Hindi song in the voices of Abhijeet, Chandana Dixit. Husn Hai Suhana song lyrics are written by Sameer, its music is given by Anand Milind. Coolie No 1 is a 1995 Hindi movie starring Govinda, Karisma Kapoor and Harish Kumar.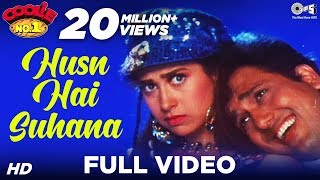 Husn Hai Suhana Song Detail
Song: Husn Hai Suhana
Album:
Coolie No 1
(1995)
Singer: Abhijeet, Chandana Dixit
Musician: Anand Milind
Lyricist: Sameer
Star Cast: Govinda, Karisma Kapoor, Harish Kumar etc.
Husn Hai Suhana Lyrics
Husn hai suhana ishq hai deewana
Husn hai suhana ishq hai deewana
Roop ka khazana aaj hai lutana
Aake deewane mujhe seene se laga
Na na na
Goriya chura na mera jiya
Goriya chura na mera jiya
Husn hai suhana ishq hai deewana
Husn hai suhana ishq hai deewana
Roop ka khazana aaj hai lutana
Aake deewane mujhe seene se laga
Na na na
Goriya chura na mera jiya
Goriya chura na mera jiya
Goriya chura na mera jiya
Karke ishara bulaye jawani
Aise lubha na mujhe deewani
Aise lubha na mujhe deewani
Tere bina hai adhoori kahani
Doonga tujhe main koyi nishani
Doonga tujhe main koyi nishani
Aaja aa jao na Aaja aa jao na dilbar jaani
Jaane jaana oh jaana
Tu hai khwabon ki rani
Apna banaungi nigahein to mila
Na na na
Goriya ne pagal mujhe kiya
Goriya ne pagal mujhe kiya
Goriya chura na mera jiya
Goriya chura na mera jiya
Mauka milan ka kahan roz aaye
Aise mujhe kyon kareeb laaye
Aise mujhe kyon kareeb laaye
Dard-e-judai sahi ab na jaaye
Koyi nasha sa dhadakan pe chhaye
Koyi nasha sa dhadakan pe chhaye
Dheere dheere se
Haule haule se kyon tadpaye
Aisi raaton mein
Aisi baaton mein kyon behkaye
Kya hai iraada mere yaar bata
Na na na
Goriya hai aashiq tera piya
Goriya hai aashiq tera piya
Husn hai suhana ishq hai deewana
Husn hai suhana ishq hai deewana
Roop ka khazana aaj hai lutana
Aake deewane mujhe seene se laga
Na na na
Goriya chura na mera jiya
Goriya chura na mera jiya
Goriya chura na mera jiya
Goriya chura na mera jiya