Hookah Bar Lyrics - Khiladi 786
Hookah Bar Lyrics from the movie Khiladi 786 is sung by Himesh Reshammiya, its music is composed by Himesh Reshammiya and lyrics are written by Shabbir Ahmed. Khiladi 786 is a 2012 Hindi movie starring Akshay Kumar, Asin and Mithun Chakraborty.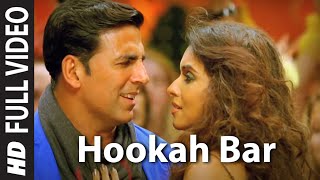 Hookah Bar Song Detail
Song: Hookah Bar
Album:
Khiladi 786
(2012)
Singer: Himesh Reshammiya
Musician: Himesh Reshammiya
Lyricist: Shabbir Ahmed
Star Cast: Akshay Kumar, Asin, Mithun Chakraborty etc.
Hookah Bar Lyrics
Teri ankhiyon ka war jaise sher ka shikaar
Tera husn dhuyeindhar jaise jalta cigar x (2)
Tere pyar ka nasha kabhi aar, kabhi paar
Tera pyar pyar pyar hookah bar
Tera pyar pyar pyar hookah bar
Tera pyar pyar pyar hookah bar bar bar bar
Tera pyar pyar pyar hookah bar
Tera pyar pyar pyar hookah bar
Tera pyar pyar pyar hookah bar
Tera pyar pyar pyar hookah bar bar bar bar
Tera pyar pyar pyar hookah bar
Tu jo na ho mere ru-ba-ru
Bin tere jeene se main daroon
Hai yehi tamanna meri
Bus tere liye jiyoon maroon
Tera hua jo deedar baaje dil mein sitar
Tera husn dhuyeindhar jaise jalta cigar
Tere pyar ka nasha kabhi aar, kabhi paar
Tera pyar pyar pyar hookah bar
Tera pyar pyar pyar hookah bar
Tera pyar pyar pyar hookah bar bar bar bar
Tera pyar pyar pyar hookah bar
Jaage hum yoon hi raat bhar
Hai hawaon mein aawaargi
Yeh qashish yeh deewangi
Hai tujhi se meri tishnagi
Hai junoon sawar main to bhoola sansar
Tera husn dhuyeindhar jaise jalta cigar
Tere pyar ka nasha kabhi aar, kabhi paar
Tera pyar pyar pyar hookah bar
Tera pyar pyar pyar hookah bar
Tera pyar pyar pyar hookah bar bar bar bar
Tera pyar pyar pyar hookah bar
Tera pyar pyar pyar hookah bar
Tera pyar pyar pyar hookah bar
Tera pyar pyar pyar hookah bar bar bar bar
Tera pyar pyar pyar hookah bar