Gandi Baat Lyrics - R... Rajkumar (Sonakshi, Shahid)
The song Gandi Baat is from Prabhu Deva's new film R... Rajkumar (Rambo Rajkumar). Leading star cast of this film Sonakshi Sinha and Shahid Kapoor has performed the song which is also choreographed by Prabhu Deva. R... Rajkumar is a 2013 Hindi movie starring Shahid Kapoor, Sonakshi Sinha and Sonu Sood.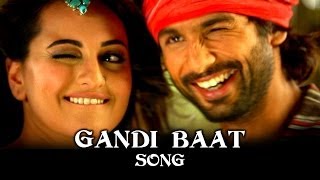 Gandi Baat Song Detail
Song: Gandi Baat
Album:
R... Rajkumar
(2013)
Singer: Mika Singh, Kalpana Patowary
Musician: Pritam Chakraborty
Lyricist: Anupam Amod
Star Cast: Shahid Kapoor, Sonakshi Sinha, Sonu Sood etc.
Gandi Baat Lyrics
Ho..
Khidki pe, nukkad pe wait tera kiya re
Khali peeli attharah cup chaai bhi to piya re
Raja beta ban ke maine jab sharafat dikhaayi
Tune bola hat mawali bhaav nahi diya re
A B C D padh li bohat
Thandi aah bhar li bohat
Achchi baat kar li bohat
Ab karoonga tere saath
[Gandi baat..
Gandi gandi gandi gandi gandi baat..] x 4
Gul badan.. dan.. dan..
Deal done.. done.. done..
One to one.. one.. one.. ho gaya
Muh se kya.. kya.. kya..
Bolta.. ta.. ta..
Mann to mann.. mann.. mann.. ho gaya
A B C D padh li bohat
Thandi aahein bhar li bohat
Achchi baatein kar li bohat
Ab karoongi tere saath
[Gandi baat.. Gandi gandi gandi gandi gandi baat..] x 4