Dupatte Ka Pallu Lyrics - Tarkieb (Jawani Ka Alam)
Dupatte Ka Pallu Lyrics from Tarkieb: This is a very well sung song by Richa Sharma with nicely composed music by Aadesh Shrivastava. Lyrics of Dupatte Ka Pallu are beautifully penned by Nida Fazli. Tarkieb is a 2000 Hindi movie starring Nana Patekar, Tabu and Shilpa Shetty.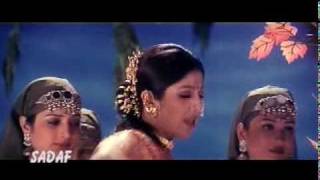 Dupatte Ka Pallu Song Detail
Song: Dupatte Ka Pallu
Album:
Tarkieb
(2000)
Singer: Richa Sharma
Musician: Aadesh Shrivastava
Lyricist: Nida Fazli
Star Cast: Nana Patekar, Tabu, Shilpa Shetty etc.
Dupatte Ka Pallu Lyrics
Jawani ka alam bada bekhabar hai
Dupatte ka pallu kidhar ka kidhar hai
Kahin hai chunariya kahin pe kamar hai
Haaye kahin hai chunariya kahin pe kamar hai
Woh thodi idhar hai, woh thodi udhar hai
Arre yeh jidhar hai zamana udhar hai
Zamana udhar hai, zamana udhar hai
Jawani ka alam bada bekhabar hai
Dupatte ka pallu kidhar ka kidhar hai
Dupatte ka pallu kidhar ka kidhar hai
Jawani ka alam bada bekhabar hai
Dupatte ka pallu kidhar ka kidhar hai
Dupatte ka pallu kidhar ka kidhar hai
Sulagti yeh saansein, dhadakti jawani
Haaye sulagti yeh saansein, dhadakti jawani
Jise bhi yeh chhu le use kar de paani
Yeh kaisi kasak hai, yeh kaisi chubhan hai
Haaye yeh kaisi kasak hai, yeh kaisi chubhan hai
Yeh nayi umar hai, yeh nayi lagan hai
Arre yeh jidhar hai zamana udhar hai
Zamana udhar hai, zamana udhar hai
Jawani ka alam bada bekhabar hai Dupatte ka pallu kidhar ka kidhar hai
Dupatte ka pallu kidhar ka kidhar hai
Jawani ka alam bada bekhabar hai
Dupatte ka pallu kidhar ka kidhar hai
Dupatte ka pallu kidhar ka kidhar hai
Nach le, nach le, nach le
Goriya ang ang se nach le
Arre nach le, nach le, nach le
Goriya ang ang se nach le
Yeh chanchal adaayein, nasheeli nigaahein
Haaye yeh chanchal adaayein, nasheeli nigaahein
Khuleaam chori karein, dil churaayein
Lachakata badan hai, phisalti kamar hai
Lachakata badan hai, phisalti kamar hai
Jawani ka alam par bekhabar hai
Arre yeh jidhar hai zamana udhar hai
Zamana udhar hai, zamana udhar hai
Jawani ka alam bada bekhabar hai
Dupatte ka pallu kidhar ka kidhar hai
Dupatte ka pallu kidhar ka kidhar hai
Jawani ka alam bada bekhabar hai
Dupatte ka pallu kidhar ka kidhar hai
Dupatte ka pallu kidhar ka kidhar hai
More Lyrics From Tarkieb


Meri Aankhon Ne Chuna Hai