Dum Ghutta Hai Lyrics - Drishyam
Dum Ghutta Hai Lyrics from the movie Drishyam is sung by Rekha Bhardwaj and Rahat Fateh Ali Khan, its music is composed by Vishal Bhardwaj and lyrics are written by Gulzar. Drishyam is a 2015 Hindi movie starring Ajay Devgn, Tabu and Shriya Saran.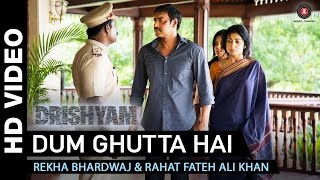 Dum Ghutta Hai Song Detail
Song: Dum Ghutta Hai
Album:
Drishyam
(2015)
Singer: Rekha Bhardwaj, Rahat Fateh Ali Khan
Musician: Vishal Bhardwaj
Lyricist: Gulzar
Star Cast: Ajay Devgn, Tabu, Shriya Saran etc.
Dum Ghutta Hai Lyrics
Pal pal ka marna pal pal ka jeena
Jeena hai kam kam
Kahe dum dum dum dum dum dum
Dum dum dum dum ghutta hai
Dukhta hai, dil dukhta hai
Kahe dum dum dum dum dum dum
Dum dum dum dum ghutta hai
Darr hai ander chupta hai
Kahe dum dum dum dum dum dum
Dum dum dum dum ghutta hai
Pal pal ka marna pal pal ka jeena
Jeena hai kam kam
Kahe dum dum dum dum dum dum
Dum dum dum dum ghutta hai x (3)
Kyon bar-bar lagta hai mujhe
Koyi door chup ke taqta mujhe
Koyi aas-paas aaya to nahin
Mere sath mera saaya to nahin
Chalti hai lekin nabz bhi thodi
Saans bhi kam-kam
Kahe dum dum dum dum dum dum
Dum dum dum dum ghutta hai x(2)
More Lyrics From Drishyam


Carbon Copy