Dhaani Chunariya Lyrics - Super Nani
Dhaani Chunariya Lyrics from the movie Super Nani is sung by Shreya Ghoshal and Harshit Saxena, its music is composed by Harshit Saxena and lyrics are written by Sameer Anjaan. Super Nani is a 2014 Hindi movie starring Rekha, Sharman Joshi and Shweta Kumar.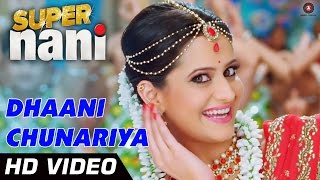 Dhaani Chunariya Song Detail
Song: Dhaani Chunariya
Album:
Super Nani
(2014)
Singer: Shreya Ghoshal, Harshit Saxena
Musician: Harshit Saxena
Lyricist: Sameer Anjaan
Star Cast: Rekha, Sharman Joshi, Shweta Kumar etc.
Dhaani Chunariya Lyrics
Hare Ram Rama Ram Radhe Shayam Radhe Shayam
Dhaani chunariya dheere dheere
Sar se sarakti jaaye re
Bindiya karti chhedkhani
Choodi meri sharmaaye re
Dhaani chunariya dheere dheere
Sar se sarakti jaaye re
Bindiya karti chhedkhani
Choodi meri sharmaaye re
Chham chhamaa ke payal bulaaye
Ghunghroo se bhi awaz aaye
O Radha kahe Radha nibha de tera vaada
Bichha ke naina baithi teri raahon mein
Radha kahe Radha nibha de tera vaada
Bichha ke naina baithi teri raahon mein
Aaja aaja
Aaja pardesi ab ghar mere aaja
Panghat pe naache Radha
Aaja pardesi ab ghar mere aaja
Panghat pe naache Radha
Mere Shayam Radhe Shayam
Radhe Shayam mere Shayam Ram Ram Radhe Shayam
Radhe Shayam, Radhe Shayam
Radhe Shayam, Radhe Shayam
Tu hi Ram, tu hi Shayam
Ho aaja pardesi ab ghar mere aaja
Panghat pe naache Radha
Aaja tu bhaiya ab
Aaja pardesi aaja
More Lyrics From Super Nani


Maheroo Maheroo