Daak Babu Aaya Lyrics - Awaargi
Daak Babu Aaya Lyrics from Awaargi: This is a very well sung song by Asha Bhosle with nicely composed music by Anu Malik. Lyrics of Daak Babu Aaya are beautifully penned by Anand Bakshi. Awaargi is a 1990 Hindi movie starring Anil Kapoor, Meenakshi Seshadri and Govinda.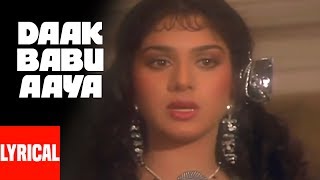 Daak Babu Aaya Song Detail
Song: Daak Babu Aaya
Album:
Awaargi
(1990)
Singer: Asha Bhosle
Musician: Anu Malik
Lyricist: Anand Bakshi
Star Cast: Anil Kapoor, Meenakshi Seshadri, Govinda etc.
Daak Babu Aaya Lyrics
Daak babu aaya, daak babu aaya x 2
Gali gali khat baante, mera khat na laya
Daak babu aaya, daak babu aaya
Daak babu aaya
Kaisi yeh takdeer nighodi
Dil toda ummeed na todi
Kaisi yeh takdeer nighodi
Dil toda ummeed na todi
Bas woh aaya aur main daudi
Mere angan ruke bina
Guzar gaya ik saya
Daak babu aaya, daak babu aaya
Daak babu aaya
Apna dil behlane ko jee
Kagaz kalam main lekar baithi
Apna dil behlane ko jee
Kagaz kalam main lekar baithi
Apne naam likhi ek chitthi
Woh chitthi bhi aur kisi ko julmi de aaya
Daak babu aaya, daak babu aaya
Daak babu aaya
Ab yeh baat alag hai logon Kaun hai jo khat likhta mujhko
Ab yeh baat alag hai logon
Kaun hai jo khat likhta mujhko
Mera deewanapan dekho
Maine kitna dard bhara
Tumko geet sunaya
Daak babu aaya, daak babu aaya
Gali gali khat baante, mera khat na laya
Daak babu aaya, daak babu aaya
Daak babu aaya