Channa Lyrics - Second Hand Husband
Channa Lyrics from the movie Second Hand Husband is sung by Sunidhi Chauhan, its music is composed by Jatinder Shah and lyrics are written by Kumaar. Second Hand Husband is a 2015 Hindi movie starring Dharmendra, Gippy Grewal and Narmada Ahuja.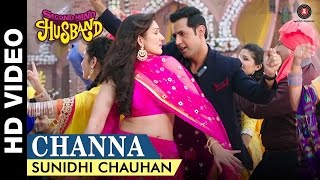 Channa Song Detail
Song: Channa
Album:
Second Hand Husband
(2015)
Singer: Sunidhi Chauhan
Musician: Jatinder Shah
Lyricist: Kumaar
Star Cast: Dharmendra, Gippy Grewal, Narmada Ahuja etc.
Channa Lyrics
Suhe ve chere waaleya main kehni aa - 2
Kar chhatri di chan main chanwein behniya - 2
Mere bin rehne laga hai
Teri kahan pe lag gayi yaari x (2)
Tu kucch na mujhe bataye
Main pucch pucch ke haari
Channa kahan ghuzaari
Ve channa kahan ghuzaari toone raat oye
Main thi taaro ke sath oye
Channa kahan ghuzaari toone raat oye
Main thi taaro ke sath oye
Channa kahan ghuzaari channa
Raat oye main
Tere liye sajhti savarti hu
Shringar sau sau karti hu
Ho.. tere liye sajhti savarti hu
Shringar sau sau karti hu
Dil mein arman leke tu ek nazar na dekhe
Tu ek nazar na dekhe
Saj dhaj ke kisse milne ki karta hai roz tayaari
Tu kucch na mujhe bataye
Main pucch pucch ke haari Channa kahan ghuzaari, raat oye
Main thi taaro ke sath oye
Channa kahan ghuzaari toone raat oye
Main thi taaro ke sath oye
Channa kahan ghuzaari, channa
Ankhiyan kucch teri chupaati hain
Haye jaan meri le jaati hain
Ankhiyan kucch teri chupaati hain
Haye jaan meri le jaati hain
Rang-dang badle tere
Tu bas main nahin hai mere
Tu bas main nahin hai mere
Kucch bhi main samaj na payi
Tarkeebein lagaa li saari
Tu kucch na mujhe bataye
Main pucch pucch ke haari
Channa kahan ghuzaari
Ve channa kahan ghuzaari toone raat oye
Main thi taaro ke sath oye
Channa kahan ghuzaari oye
More Lyrics From Second Hand Husband


Bad Baby


Jawaani Din Char