Bole Re Papihara Lyrics - Guddi
Bole Re Papihara Lyrics from the movie Guddi is sung by Vani Jairam, its music is composed by Vasant Desai and lyrics are written by Gulzar. Guddi is a 1971 Hindi movie starring Dharmendra, Jaya Bachchan and Vijay Sharma.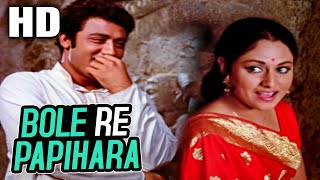 Bole Re Papihara Song Detail
Song: Bole Re Papihara
Album:
Guddi
(1971)
Singer: Vani Jairam
Musician: Vasant Desai
Lyricist: Gulzar
Star Cast: Dharmendra, Jaya Bachchan, Vijay Sharma etc.
Bole Re Papihara Lyrics
Bole re papihara, papihara
Bole re papihara, papihara
Nit ghan barse, nit man pyasa
Nit man pyasa, nit man tarse
Bole re papihara
Bole re papihara, papihara
Bole re papihara
Palkon par ik boond sajaaye
Baithi hoon sawan le jaaye
Jaaye pee ke des mein barse
Jaaye pee ke des mein barse
Nit man pyasa, nit man tarse
Bole re papihara
Bole re papihara, papihara
Bole re papihara
Sawan jo sandesa laaye
Sawan jo sandesa laaye
Meri aankh pe moti paaye
Meri aankh pe moti paaye
Jaaye mile baabul ke ghar se
Jaaye mile baabul ke ghar se
Nit man pyasa, nit man tarse Bole re papihara
Bole re papihara, papihara
Bole re papihara
More Lyrics From Guddi


Humko Man Ki Shakti Dena