BHOOT AAYA LYRICS - Nanu Ki Jaanu
Bhoot Aaya Lyrics from Nanu Ki Jaanu feat Abhay Deol is latest song sung by Mika Singh and Fazil Puria. Its music is composed by Sachin Gupta while lyrics are written by Sajid Qureshi and Sachin Gupta. Nanu Ki Jaanu is a 2018 Hindi movie starring Abhay Deol, Patralekha and Manu Rishi.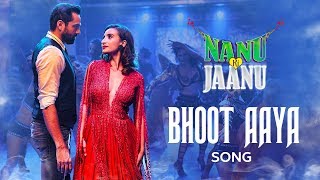 Bhoot Aaya Song Detail
Song: Bhoot Aaya
Album:
Nanu Ki Jaanu
(2018)
Singer: Mika Singh, Fazil Puria
Musician: Sachin Gupta
Lyricist: Sajid Qureshi, Sachin Gupta
Star Cast: Abhay Deol, Patralekha, Manu Rishi etc.
Bhoot Aaya Lyrics
Bohat gaur se suniye aap
Jo main aapko sunane ja raha hoon
Yeh ek atrangi bhoot ki kahaani hai
Kabhi nahi suni hogi apne aisi kahaani
Nanu ke pichhe tumhari bhoot
Uske bistre mein so rahi hai
Aur kehti hai
Nanu main teri jaanu
Nanu main teri jaanu
Jaan bachi to laakhon paaye
Dar ke bacchu ghar na jaaye
Pyar wale gaane gaaye
Jaanu jaanu mujhe bulaaye
Haye bistar pe sone woh aaye
Lipstick ke nishan lagaye
Dar ke maare neend na aaye
Jantar mantar kaam na aaye
Dheere dheere se kaanon mein farmaye
Nanu shaadi karoge
Bhago bhago bhoot aaya x (6)
Aage nanu pichhe jaanu
Pichhe jaanu aage nanu x (4)
Re dar lagta mera BP badhta
Jab I love you farmaati hai
Chhori pippal pippal pippal pi
Pippal ke paidh se aati hai x (4)
Jahan bhi dekhoon
Bhoot nazar woh aaye
Haan aaye, haan aaye, haan aaye
Seeti maar ke mujhe woh bulaaye
Bulaaye bulaaye bulaaye
Ulte seedhe kaam karaaye
Come come baby
Kaam karaaye baby
Kaam karaaye baby
Haye ankh dikha ke mujhe daraaye
Pyar se mere baal banaye
Hathon se pizza khilaye
Vine ke badle khoon pilaaye
Dheere dheere se kaanon mein farmaye
Nanu shaadi karoge
Bhoot aaya
Bhago bhago bhoot aaya
Bhago bhago bhoot aaya
Ab mera blood na choos
Udd gaye hain fuse
Tu koyi bhoot pataa le
Debit credit card tu le
Yamlok ki flight book kara le
Yamlok ki flight book kara le
Haye jaadu wala baba bula do
Nagin wali been baja do
Chhoodi wala dance kara do
Bhoot se meri jaan bacha do
Bacha do x (4)
Thandi isko beer pila do
DJ ki party karwa do
Kahin se chumma ise dila do
Mere ghar se ise bhaga do
Nahi to kaanon mein phir se farmayegi
Nanu
Bhoot aaya
Bhaago bhaago bhoot aaya x (7)