Bhole O Bhole Lyrics - Yaarana
Bhole O Bhole Lyrics from Yaarana is Hindi song sung by Kishore Kumar and music is given by Rajesh Roshan. Bhole O Bhole song lyrics are written by Anjaan. Yaarana is a 1981 Hindi movie starring Amitabh Bachchan, Neetu Singh and Tanuja.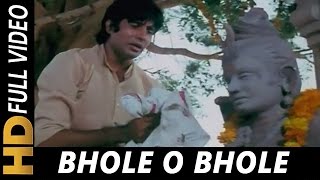 Bhole O Bhole Song Detail
Song: Bhole O Bhole
Album:
Yaarana
(1981)
Singer: Kishore Kumar
Musician: Rajesh Roshan
Lyricist: Anjaan
Star Cast: Amitabh Bachchan, Neetu Singh, Tanuja etc.
Bhole O Bhole Lyrics
Bhole o Bhole
Tu rootha dil toota
Mere yaar ko manaa de
Woh pyaar phir jagaa de
Mere yaar ko manaa de
Woh pyaar phir jagaa de
Bhole o Bhole
Woh bichhda to kasam se
Phir main na ji sakunga
Mere bhole tere jaise
Mmain zehar na pee sakunga
Zism hoon main woh jaan hai meri
Usko nahi pehchaan hai meri
Zism hoon main woh jaan hai meri
Usko nahi pehchaan hai meri
Pyaar mera tu jaane
Mere yaar ko manaa de
Woh pyaar phir jagaa de
Bhole o Bhole
Kya hoga phir tera
Gauri jo rooth jaaye
Shankar tere maathe ka Chanda jo toota jaaye
Dam dam dam damroo na baaje
Bam bam bam phir tu na naache
Dam dam dam damroo na baaje
Bam bam bam phir tu na naache
Yaar agar na maane
Mere yaar ko manaa de
Woh pyaar phir jagaa de
Mere yaar ko manaa de
Woh pyaar phir jagaa de
Bhole o Bhole