Be Inteha Lyrics - Race 2
Be Inteha Lyrics from Race 2: Be Inteha is a beautiful hindi song from 2013 bollywood film Race 2. This song is composed by Pritam Chakraborty. Atif Aslam and Sunidhi Chauhan has sung this song. Its lyrics are written by Mayur Puri. We also have 'Be Inteha Video' for you. Race 2 is a 2013 Hindi movie starring Saif Ali Khan, Deepika Padukone and John Abraham.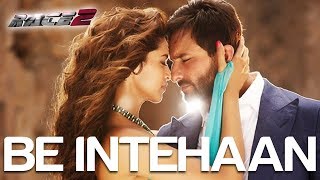 Be Inteha Song Detail
Song: Be Inteha
Album:
Race 2
(2013)
Singer: Atif Aslam, Sunidhi Chauhan
Musician: Pritam Chakraborty
Lyricist: Mayur Puri
Star Cast: Saif Ali Khan, Deepika Padukone, John Abraham etc.
Be Inteha Lyrics
Suno na
Kahe kya suno na
Dil mera suno na
Suno zara...
Teri baahon mein
Mujhe rehna hai raat bhar
Teri baahon mein hogi subah
Be inteha.. be-inteha
Be inteha.. hmmm
Yun pyar kar
Yun pyaar kar
Be inteha
Dekha karoon saari umar
Saari umar
Tere nishaan be inteha
Koi kasar na rahe
Meri khabar na rahe
Chhu le mujhe is kadar be inteha
Jab saanson mein
Teri saansein ghuli to
Phir sulagne lage
Ehsaas mere mujhse kehne lage Haan..
Baahon mein teri aake
Jahaan do yun simatne lage
Sailaab jaise koi behne lage
Khoya hoon main aagosh mein
Tu bhi kahaan ab hosh mein
Makhmali raat ki ho na subah...
Be inteha [be inteha]
Be inteha [be inteha]
Yun pyar kar [yun pyar kar]
Be inteha [be inteha]
Ho...
Hmmm...
Hmmm...
Gustakhiyaan.. kuchh tum karo
Kuchh hum karein.. is tarah
Hmmm...
Sharrma ke do saaye hain jo
Mooh pher lein hum se yahaan
Haan..
Chhu to liya hai yeh jism tune
Rooh bhi choom le
Alfaaz bheege bheege kyun hain mere..
Haan...
Yun choor hoke majboor hoke
Qatra qatra kahe
Ehsaas bheege bheege kyun hain mere
Do bekhabar bheege badan
Ho besabar bheege badan
Le rahe raat bhar angdaaiyaan
Be inteha.. be inteha
Be inteha.. be inteha
Yun pyar kar.. yun pyar kar
Be inteha.. be inteha
Dekha karoon.. dekha karoon
Saari umar.. saari umar
Tere nishan.. tere nishan
Be inteha.. be inteha
Koi kasar na rahe
Meri khabar na rahe
Chhu le mujhe is kadar be inteha
More Lyrics From Race 2


Allah Duhai Hai


Party On My Mind


Lat Lag Gayi