Babli Badmash Hai Lyrics - Shootout At Wadala
'Babli Badmaash Hai' is an item number from upcoming movie 'Shootout At Wadala'. It is reported that Priyanka Chopra will perform on this song. Song will be full of glamour but you won't find any vulgarity and double meaning in the lyrics. Director and one of the producers of the film Sanjay Gupta has said that the song is a tribute to his favourites - Late Feroz Khan and late R. D. Burman. It is also said that Sunny Leone is going to perform on another item number in this film. Shootout At Wadala is a 2013 Hindi movie starring John Abraham, Anil Kapoor and Ronit Roy.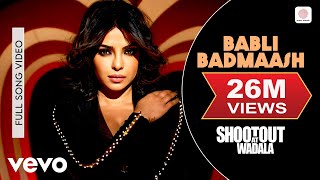 Babli Badmash Hai Song Detail
Song: Babli Badmash Hai
Album:
Shootout At Wadala
(2013)
Singer: Sunidhi Chauhan
Musician: Anu Malik
Lyricist: Kumaar
Star Cast: John Abraham, Anil Kapoor, Ronit Roy etc.
Babli Badmash Hai Lyrics
Aazmaa le, aaja tu saamne
Aazmaa le, aaja tu saamne
Dil pardafaash hai
Neeyat ayyaash hai
Na ban shareef tu
Babli badmash hai
Babli badmaash hai
Babli badmash hai
Babli badmaash hai
Babli badmash hai
Babli badmash hai
Babli badmaash hai
Na ban shareef tu
Babli badmash hai
Aaja jalwon ke shaamiyaane mein
Kya rakkha hai iss zamaane mein
Aaja jalwon ke shaamiyaane mein
Kya rakkha hai iss zamaane mein
Kyun behlata hai dil ko baaton se
Husn ko chhoo le aaj haathon se
Dil laga le, aaja tu saamne
Dil pardafaash hai Neeyat ayyaash hai
Na ban shareef tu
Babli badmash hai
Pyaas jaagi hai kitni raaton se
Aa bujha lein hum behke jazbaton se
Pyaas jaagi hai kitni raaton se
Aa bujha lein hum behke jazbaton se
Na fursat ho saans lene ki
Bas khwaahish ho pyaar dene ki
Dil jala le, aaja tu saamne
Dil pardafaash hai
Neeyat ayyaash hai
Na ban shareef tu
Babli badmash hai
Babli badmaash hai
Babli badmash hai
Babli badmaash hai
Babli badmash hai
Babli badmaash hai
Babli badmash hai
Na ban shareef tu
Babli badmaash hai