Aye Gulbadan Lyrics - Shammi Kapoor | Mohammed Rafi
Aye Gulbadan Lyrics from Professor is Hindi song sung by Mohammed Rafi and music is given by Shankar Jaikishan. Aye Gulbadan song lyrics are written by Hasrat Jaipuri. Professor is a 1962 Hindi movie starring Shammi Kapoor, Kalpana Mohan and Lalita Pawar.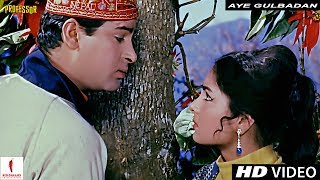 Aye Gulbadan Song Detail
Song: Aye Gulbadan
Album:
Professor
(1962)
Singer: Mohammed Rafi
Musician: Shankar Jaikishan
Lyricist: Hasrat Jaipuri
Star Cast: Shammi Kapoor, Kalpana Mohan, Lalita Pawar etc.
Aye Gulbadan Lyrics
Aye gulbadan aye gulbadan
Phoolon ki mehak kaanton ki chubhan
Tujhe dekh ke kehta hai mera man
Kahin aaj kisi se mohabbat na ho jaye
Kahin aaj kisi se mohabbat na ho jaye
Aye gulbadan aye gulbadan
Phoolon ki mehak kaanton ki chubhan
Tujhe dekh ke kehta hai mera man
Kahin aaj kisi se mohabbat na ho jaye
Kahin aaj kisi se mohabbat na ho jaye
Kya haseen mod par aa gayi zindgaani
Ke hakikat na ban jaye meri kahaani
Kya haseen mod par aa gayi zindgaani
Ke hakikat na ban jaye meri kahaani
Jab aahein bhare yeh thandi pawan
Seene mein sulag uthti hai agan
Tujhe dekh ke kehta hai mera man
Kahin aaj kisi se mohabbat na ho jaye
Kahin aaj kisi se mohabbat na ho jaye
Kya ajeeb rang mein saj rahi hai khudayi
Ke har cheez maalik ne sundar banayi
Kya ajeeb rang mein saj rahi hai khudayi Ke har cheez maalik ne sundar banayi
Nadiyon ka chamakta hai darpan
Mukhda dekhe sapnon ki dulhan
Tujhe dekh ke kehta hai mera man
Kahin aaj kisi se mohabbat na ho jaye
Kahin aaj kisi se mohabbat na ho jaye
Main tumhi se yun aankhein milata chala hoon
Ke tumhi ko main tumse churata chala hoon
Main tumhi se yun aankhein milata chala hoon
Ke tumhi ko main tumse churata chala hoon
Mat poochh mera deewanapan
Aakash se unchi dil ki udan
Tujhe dekh ke kehta hai mera man
Kahin aaj kisi se mohabbat na ho jaye
Kahin aaj kisi se mohabbat na ho jaye
Aye gulbadan aye gulbadan
Phoolon ki mehak kaanton ki chubhan
Tujhe dekh ke kehta hai mera man
Kahin aaj kisi se mohabbat na ho jaye
Kahin aaj kisi se mohabbat na ho jaye
Kahin aaj kisi se mohabbat na ho jaye